A to Z Guide: Everything you need to know about driving a car in Dubai
Getting a Driving License in Dubai

Let's start your car driving journey in Dubai with a driving license. To get a new driving license, documents required for Dubai driving license include original and a copy of valid passport, a copy of valid Dubai residence visa, eye test certification, NOC from sponsor, and residence, and an affidavit from consulate stating that you possess a valid driving license of that country.
Individuals holding a valid GCC license must also bring an original copy of the license. Make sure that your passport and visa is not expiring to apply for a new driving license.
Additional requirements may include NOC from parents if a female wishes to be trained by a male instructor. Individuals other than Dubai may have to bring trade license copies of Dubai and another emirate and NOC from the Dubai branch.
RTA Guidelines For Driving License In Dubai

RTA in Dubai makes it mandatory to complete a minimum of 20 hours of behind-the-wheel training before going for a driving test, 15 hours minimum training is also compulsory for individuals holding a 2 to 5 years old valid driving license in their home country and 10 hours minimum training for those individuals, who are having a valid driving license which is more than five years old.
Further, individuals with an existing valid license must appear for an additional Evaluation Test to assess their driving skills.
In Dubai, an individual can apply for a light motor vehicle driver's license and start training at 17 years and 6 months. However, the license will only be issued once the applicant turns 18year of age.
RTA also allows for the transfer of existing driver's licenses without training or driving tests in Dubai. It is only possible for the individuals who hold a valid UAE residence visa and are a citizen of one of the following countries: Australia, Austria, Bahrain, Belgium, China, Canada, Denmark, Finland, France, Germany, Greece, Hongkong, Ireland, Italy, Japan, Kuwait Latvia, Lithuania, Luxembourg, Netherland, New Zealand, Norway, Oman, Poland, Portugal, Qatar, Romania, Serbia, Singapore, Saudi Arabia, South Korea, Slovakia, South Africa, Spain, Sweden, Switzerland, Turkey, United States and the United Kingdom.
Best Driving Schools in Dubai

You need to register yourself in a driving institute in the related emirate to attend driving training classes and pass the required tests. Once you pass the test from driving schools, you will get a driving license for 2 years. RTA (Roads and traffic authority) has authorized driving institutes to smoothly transform the driving license process. These authorized best driving schools in Dubai include a list of top driving schools in Dubai: Emirates Driving Company, Dubai Driving Centre, Galadari motor driving centre, Belhasa Driving centre, Al Ahli Driving Center, etc.
But suppose you're looking for a cheap driving school in Dubai. In that case, Belhasa Driving school offers services at economical prices, then Al Ahli centre, Galadari driving centre, Dubai Driving centre, and Emirates Driving Institute, respectively.
Dubai Driving Schools Comparison

Please find the Dubai driving school fees comparison below:
| | | | | |
| --- | --- | --- | --- | --- |
| Driving Schools | 20Hours Practical Training | 15Hours Practical Training | 10Hours Practical Training | Final Test Retake Fee |
| Emirates Driving Institute 1991 | 6956.25 | 6378.75 | 5696.25 | 1029 |
| Belhasa Driving Center 2001 | 6135.75 | 5640.75 | 5040.75 | 838.50 |
| Dubai Driving Center 2003 | 6011.25 | 5465.25 | 4940.25 | 829.50 |
| Galadari Motor Driving Center 2004 | 5134 | 4819 | 4294 | 733 |
Note: These prices are subject to the date of publication of this article. It can be changed by the relevant driving schools with the passage of time.
We have identified that the Belhasa driving centre offers reasonable rates for training and their services are good enough to follow. Further, you can consider other driving schools that best suit your current situation, including driving school distance, cost, quality instructor, etc.
Tips to Pass the Driving License Dubai Exam

While going for the driving test, it's good to also glance at RTA road test tips because they will help you during your RTA driving test. Further, we will add some more information on how to pass a driving test in Dubai as follows:
Do practice the driving test on a still car before going to the examination.
Give a positive gesture to the examiner by having a smile on your face while going for the driving test.
Make car initial adjustments immediately, including tying up the seat belt, setting the mirror, and putting down the hand brake while keeping your foot on the manual brake pad.
Keep yourself calm when driving the car and going through various driving tests.
Never apply sudden brakes during the test and keep control of your nerves.
Be very careful while changing the lanes and look in the side mirrors, back mirror and side view glasses.
Listen and carefully follow the instructions of the examiner.
Don't press the accelerator when you've neutralized the gear system.
How to renew a driving license in Dubai?
Dubai Driving license renewal process is the same, and it requires a valid passport, valid residence visa, a copy of the expired license, car insurance, report from eye test centre if required in any case, which you can get through authorized eye testing centres like Dubai optical, Yateem Optician, Emirates driving institute-eye test etc.
Renewal processing time for a driving license in Dubai may take on average 3 to 5 working days, and its validity is 1 year for applicants below 21 years old. The validity for a driving license above age 21 is 10 years for Emirati citizens. Whereas the driving license is valid for 5 years for the residents and other GCC citizens approved by RTA.
Where can I renew my driving license in Dubai?
Visit RTA official website and browse through The Driver and Car Owner Services tab. Click on the Driving License Services tab to access various Dubai driving license renewal services. Upload all the required documents. Pay all the necessary fees or fines if applicable.
Which country's driving license can you use in Dubai?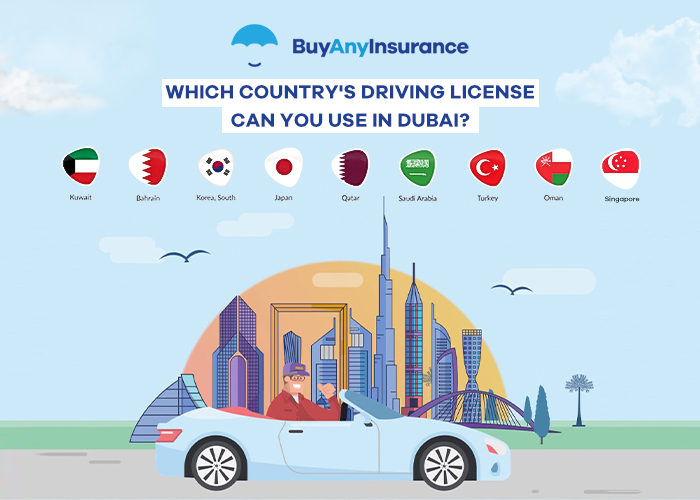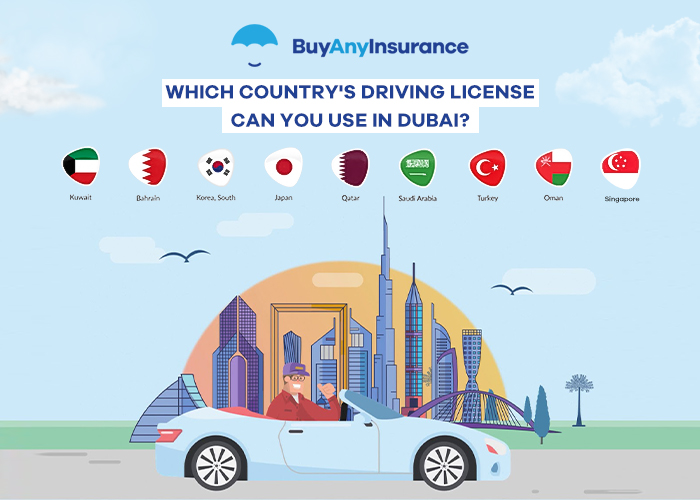 Singapore, Japan, Bahrain, South Korea, Saudi Arabia, Kuwait, Oman, Turkey, and Qatar's driving licenses are valid in Dubai.
Buying a Car in Dubai


How to buy a car in Dubai?
Buying a car in Dubai process is very easy to follow, and the requirements to buy a car in UAE are also elementary to understand. You have to do good research on the car model that best suits your need or one you like the most, and then you may look for the top platforms of car dealers in Dubai to buy the best suitable car for yourself.
List of Top Car Brands
Please find the top brand cars in Dubai as mentioned below:
Porsche
Ferrari
Audi
Jaguar
Lamborghini
McLaren
Rolls Royce
Aston Martin
Bugatti
Bentley
List of most Affordable Cars in Dubai
Please find the top affordable cars in Dubai as mentioned below:
Nissan Sunny
Hyundai i10
Kia Picanto
Chevrolet Spark
Suzuki Celerio
Ford Figo
Renault Logan
List of Top Car Showrooms
We have also identified the List of top car showrooms in Dubai to buy a car which includes the following car showrooms:
House of cars at Sheikh Zayed Collector Road, Dubai +971-4-343-5060
Pearl Motors at Sheikh Zayed Road, 4th Interchange, Dubai +971-4-321-0025
Sun City Motors at Sheikh Zayed Road, 4th Interchange, Dubai +971-4-321-8655
Elite Cars at Street 4, Al Quoz 3, Sheikh Zayed Road, Dubai +971-600-543-628
Al Tayer Motors at Sheikh Zayed Road | Al Manara |Al Garhoud | Al Ittihad | Al Barsha +971-800-668-677
Honda showroom-Trading Enterprises at Sheikh Zayed Road, Dubai +971-800-46632
Galadari Automobiles at Mazda Deira Showroom Al Ittihad Road – Al Khubaisi Area |Mazda Sheikh Zayed Showroom | Mahindra Showroom Deira +971-4-231-0200|+971-4-419-9600|+971-4-299-4969
Al Nabooda Automobile at VW Showroom Sheikh Zayed Road Next to Noor Bank Metro Station | Audi Showroom Sheikh Zayed Road, Al Quoz | Porsche Showroom Sheikh Zayed Road Next to Interchange 3 +971-800-80089 |800-2834 |800-918
Car Comparison Portals in Dubai
Following are the top car comparison portals in Dubai.
Dubizzle.com
Dubicars.com
DriveArabia.com
DubaiCars.com
YallaMotor.com
Carnity.com
Motoraty.com
GetThat.com
YzerMotors.com
AutoTradersUAE.com
We have identified that DriveArabia best suits your needs if you have to compare 5 cars simultaneously.
Used Cars Buying Portal
If you're interested in buying a used car, then the CarSwitch portal is one of the best ways to compare the features and prices of various brands of used vehicles. You have to enter the car name, model, and year and get all the details, including features and price comparison.
How can you get a loan to buy a car?
To get a loan for buying a car in Dubai. You have to follow the steps mentioned below:
Check your credit report.
Apply for auto loans from multiple lenders.
Get preapproved for an auto loan.
Use your loan offer to set your budget.
Find a car that best suits your needs and wants.
Review the dealer's loan offer.
Select and finalize your loan.
Make payments on time.
Graveyard of Cars for Buying in Dubai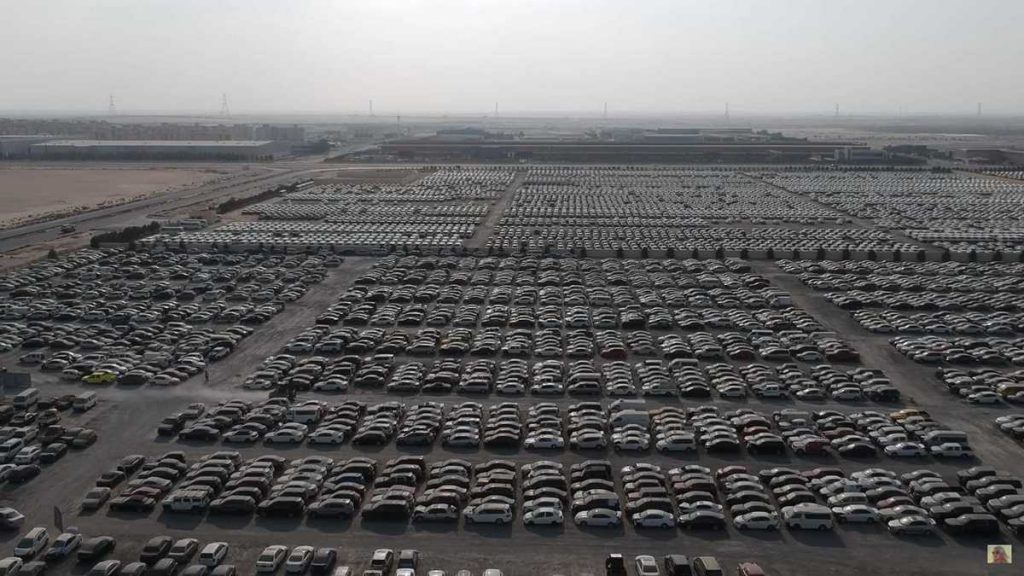 It is easy to find abandoned cars in the streets of Dubai. Once the vehicle is identified as left, it is picked up and auctioned off by Dubai police. Mostly abandoned cars are auctioned to the car dealers in Dubai whosoever gives the best bid, the car would be sold to them.
Address: DIC, Plot: 500 – 663 – 3 طريق شاحنات الفاية – سيح شعيب – Dubai phone number: 04 459 2700
Registering a Car in Dubai


First-time Car Registration
Car registration is known as "Mulkiya" in Dubai, and it is essential to register your car before driving onto the roads of Dubai. Otherwise, you will be charged with a penalty or fine.
Documents Required:
Following are the primary documents required to register your car in Dubai:
Traffic File
Original Emirates ID or Passport copy
UAE customs card/possession certificate
Electronic or physical sale agreement between showroom and buyer
Vehicle Insurance (valid for 6 months or more)
Letter from the bank (if the car has been financed)
Valid Residence Visa issued from Dubai
Rental Contract in Dubai under your name
Proof of Employment in Dubai
How much does car registration cost in Dubai?
New car registration in Dubai will cost around AED 420 just to be paid for the first time. Moreover, if you have not had any previous fines, you will need to open a traffic file, which will cost an additional AED 220.
How much is car registration renewal in Dubai?
It will cost around AED 380 to renew car registration online in Dubai. The RTA renewal is valid for a year. Additional charges will include the courier fee of AED 25.
How much is the fine for late car registration in Dubai?
A late fee of AED 25 will be charged every month after the grace period is over, and you have to pay this fine along with the registration fee to register your car successfully.
Can we drive a car after the Mulkiya expiry?
They will charge you a fine if you drive the car with expired mulkiya. If the vehicle is not in use, you will not be fined. But, no fine will be charged when you renew it, but a fine of AED 10/month will be charged if the car insurance is expired.
How to transfer car ownership in Dubai?
The used car registration process is the same, and it requires the same documents we need for the new car registration in Dubai. But, there is some additional cost that you may have to incur to get used car registration.
However, the cost of second-hand car registration is also AED 420 in Dubai. Other necessary expenses associated with the transfer of ownership may include:
Vehicle inspection test: AED 170
Traffic file (if it does not exist): AED 220
Transfer of ownership fee: AED 350
Selling fee: AED 50
Knowledge and innovation fee: AED 20
Car testing centres – Tasjeel
Tasjeel Dubai uses a selection of RTA automobile screening services throughout all its facilities. One of its most preferred solutions is the Renewal Examination, which certifies vehicles as eligible for the revival of enrollment. The 45-minute test is necessary before registration renewal for all cars more than 3 years old.
You can obtain the Tasjeel automobile screening at any facility in the emirate where your automobile is registered. There are many Tasjeel centers all across Dubai including Tasjeel AlBarsha at Sheikh Zaid Road, Tasjeel Al Awir, and Tasjeel – City of Arabia. The Tasjeel car testing charges vary for facilities in Dubai and other Emirates.
Fee: AED 170 – Dubai
Car Insurance


List of car insurance companies in Dubai
Please find the list of car insurance companies in Dubai and compare their policy features and prices to select a car insurance policy that best suits your needs and wants.
AMAN Insurance
AXA Insurance
Adamjee Insurance Company Ltd.
AIG Insurance Company
Dubai Insurance
Salama Islamic Arab Insurance Company
Union Insurance Company PSC
Best Car Insurance Comparison Portal
There are many car insurance comparison portals available online, which will give you several facilities. But, we recommend you BuyAnyInsurance, because it will provide you detailed support with lots of options available under your budget along with discount vouchers, insurance companies quotation comparison and 24/7 customer support.
Things to Consider for Best Car Insurance in Dubai
When buying the car insurance Dubai online policy, we have to consider certain things. Following are the points that need to be considered when purchasing a car insurance policy:
Insurance comparison is a must thing to consider whether you're buying comprehensive insurance or Third-party insurance.
Arrange all required documents for insurance which includes passport, residence visa, driving license, car registration card
Awareness of how insurance premium is calculated
Keep in mind that insurance companies also offer Insurance bonuses to their buyers.
Make sure your car insurance policy includes agency repairs.
Make sure that your car insurance policy covers emergency services or not?
Ensure that your insurance premium coverage also includes compulsory excess as it reduces the premium value.
Consult car insurance consultants like buy any insurance to get experience to advise and good after-sale claim services.
Do I need rental automobile insurance in Dubai?
Rental cars and trucks do not have insurance coverage included in the cost on a general basis (besides 3rd party insurance coverage). You would certainly have to acquire this as extra. For instance, to cover for mishaps, essential loss, and auto theft must cost you around $15-20 daily.
What is the cheapest car insurance type?
The car insurance price depends upon many factors like no claim, age, driving license, car model, etc. Further, many factors are considered while giving the cost of car insurance. But still, Union insurance and Adamjee insurance are comparatively cheap compared to others.
What is car insurance like in Dubai?
Car insurance in Dubai is straightforward, and it starts from a minimum of AED 600/annum. But, the insurance policy in Dubai varies concerning the type of car insurance.
What are the 3 types of car insurance?
Following are the 3 types of car insurance generally available in Dubai:
Liability coverage
It is the primary form of auto insurance in Dubai since it protects against any liability caused to the third party, such as bodily injuries or property damage.
Collision coverage
Collision coverage helps pay to repair or replace your vehicle if it's damaged or destroyed in an accident with another car, regardless of who is at fault.
Comprehensive coverage
a comprehensive car insurance policy offers broader protection, which means the policy covers all damages in case of accident, theft or vandalism.
Why Should You Select BuyAnyInsurance for Car Insurance in Dubai?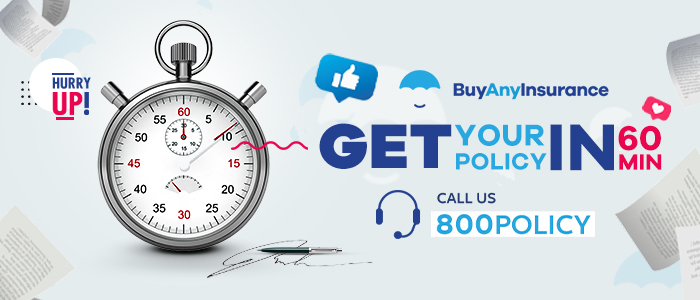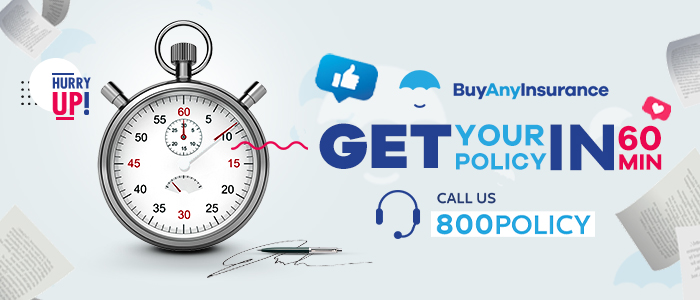 To select the most effective car insurance for your car, you need to access and compare various car insurance providers, which the insurance companies and banks do not provide. So, BuyAnyInsurance is the car insurance comparison portal where you can compare various car insurance policies and select one which suits you the best.
They will provide you with the most relevant and reliable information to compare the car insurance UAE providers efficiently. Further, they will provide you with the no-claim benefit and offer you the best 24/7 customer services for your insurance claims and queries. They believe in creating awareness for their clients to understand the car insurance industry very well and select the car insurance policy that best suits your needs and wants.
Car Insurance Renewal
You need to present no claim certificate from the previous insurance company and identity documents like passport, residence visa, driving license, and car registration card to renew car insurance in Dubai.
Driving the Car in Dubai


Driving Rules & Regulations in Dubai
Following are the basic rules and regulations for driving the car in Dubai:
The minimum age for legal driving is 18, while the license has to renew every year till 21 years of age, and then after every 10 years.
UAE follows right-hand drive with the steering wheel on the left-hand side, so overtaking is allowed only from the left-hand side.
The speed limit is 60-80kmph for Urban areas, 40kmph for residential areas, and 100-120kmph for highways.
Drunk driving is considered a serious criminal offence and may result in cancellation of driving license and heavy fine decided by the court.
A safety belt is mandatory for everyone in the car, including a child less than 4years, and a tie seat belt.
Fines on Violation of RTA traffic Rules & Regulations
Following are some significant fines in case of violation of traffic rules & regulations:
Driving without a license AED 5000
Driving below minimum speed AED 400
Exceeding the maximum speed limit by 80km/h, the fine would be AED 3000 with 23 black points and car retention for 60 days & block driving license for 60 days.
Exceeding the maximum speed limit by 60km/h, the fine shall be AED 2000 with 12 black points & car retention for 30 days.
Driving a car without plates, the fine shall be AED 3000 along with 23 black points and vehicle retention for 90 days.
Driving under the influence of alcohol, the court will decide a fine along with 23 black points awarded.
Running away from the policeman would cost AED 800 along with 30 days of vehicle retention.
Note: All these fines can be revised as per the RTA fines policy.
Car Driving Ethics to Remember:
Following are some basic things to remember while driving a car in Dubai:
Don't tailgate or overtake dangerously while driving.
Good knowledge of traffic laws, car maintenance knowledge and problem-solving skills.
There must be no more than 4 passengers in the car, excluding the driver.
Maintain good grip on the steering wheel
Sit in the same position for an extended time
Reach and adjust mirrors and in-car controls.
Take short breaks during the long driving.
Car Repair & Maintenance Service Stations:
Following are the renowned repair & maintenance service stations in Dubai:
Rapido Garage
High Range Garage LLC
The Auto Pros
Car Zilla auto service
Car recovery BurDubai
Al Fatah auto General Repairing Co.
ENOC is one of the most renowned fuel stations all across Dubai. So, you can fuel your car through this fuel refill station. Moreover, CAFU is also considered one of the best fueling services as they will come to your place to fuel your vehicle, and it is beneficial when your car runs out of fuel.
Selling the Car in Dubai


To sell your car in Dubai, you can find several online portals to get the best quotes for your car, including your car test at your location. You have to write cash for your car UAE on Google and find several online car selling portals. Following are some good car selling portals where you can sell your car online:
CarSwitch
AutoMallUAE
SellAnyCar
TimeOutDubai
WeBuyCarsDXB
SellYourMotors
But, before selling your car, you must be familiar with the selling car law in Dubai. So, after selling your vehicle, you feel free, and there would be no liability on you. Let's have a look at the car selling rules in Dubai.
Rules to Sell Your Car in Dubai
You can not place a "For Sale" sticker inside your car. Otherwise, police will impound your vehicle.
If you have any outstanding finance (mortgage), you can not sell your car. Firstly, you should clear the outstanding finance to sell your vehicle.
Once you have cleared your outstanding finance from a bank, the bank must inform RTA for outstanding finance clearance. Usually, you will get a text message from the RTA of outstanding finance clearance, and then you can sell your car.
To sell your car, you must go through an RTA car test which costs around AED 120 and is valid for the next 30 days from the issuance date of the car test certificate.
The car seller must be present when selling the car along with an original Emirate ID and car test certificate.
Buyer must possess a valid Emirate ID/residence Visa, valid car insurance, and a valid driving license when buying the car.
Buyer must refund car test fee of AED 120 as mentioned above to the seller, and in addition to it, the buyer must pay the car registration fee of AED 420
The seller must be present at RTA when selling the car. But, in other cases, the seller can also give written authority to a third party to sell the vehicle on their behalf. But, power of attorney needs to be organized legitimately through the court. But one has to be very careful regarding giving power of attorney.
Sellers may visit an authorized car showroom to write a sales agreement for you. But, make sure to bring an Emirate ID/ residence visa along with you.
Select an authorized and trustworthy car showroom, and we recommend adding a clause in the agreement permitting them to advertise your car.
If the insurance policy is left for more than 7 months when selling the car, it can also be transferred to the buyer. The policyholder must submit a photocopy of the new car registration card to avail of this facility. But, keep in mind that not all insurance providers give this facility. Whereas, if the insurance policy is more than 7 months, the seller can also get a refund for the remaining period by cancelling the insurance policy. But they have to submit the new registration card to the insurance company.
Note: Make sure not to rush to sell your car and be patient enough to get a good understanding of the car law of sale and reasonable price.
Conclusion
We have stated your whole car driving journey in Dubai, which will help you comprehensively understand car usage in Dubai. It starts from getting the driving license, including RTA rules and regulations, best driving schools including their comparison and tips to pass the driving test.
It includes the list of country's driving license, which you can use in Dubai and, easily buy a car in Dubai, including the best car buying portals and a list of famous, expensive and customarily used cars in Dubai. We have also discussed the graveyard of Dubai, where you can buy second-hand cars in an auction.
The step by step car buying process in Dubai has been thoroughly discussed, starting from car registration process, it includes documentation, pricing, transfer, and renewal, in detail. Where, we did not forget to mention the used cars registration process and Tasjeel centre at various places across Dubai, including Tasjeel Al Awir, Tasjeel – City of Arabia, and Tasjeel AlBarsha for car testing services.
Car Insurance has been thoroughly covered, including some valuable things to remember while buying the car insurance and the reason to choose BuyAnyInsurance for your car insurance, including your car insurance renewal.
Car driving rules & regulations by RTA can not be ignored. So, important rules and regulations have been added that will help you from penalty. Therefore, a list of some common fines and some essential tips for driving a vehicle on Dubai roads has been included.
In the end, we have discussed some valuable online car selling portals in Dubai and listed some essential points from the law for car selling in Dubai. We recommend you start your car driving in Dubai, and feel free to contact us if you have any questions related to the same.
Originally published Jan 14, 2022 11:25:00 AM, updated Jan 17, 2022