How to renew vehicle registration in Abu Dhabi?
How to renew vehicle registration in Abu Dhabi? A Quick Guide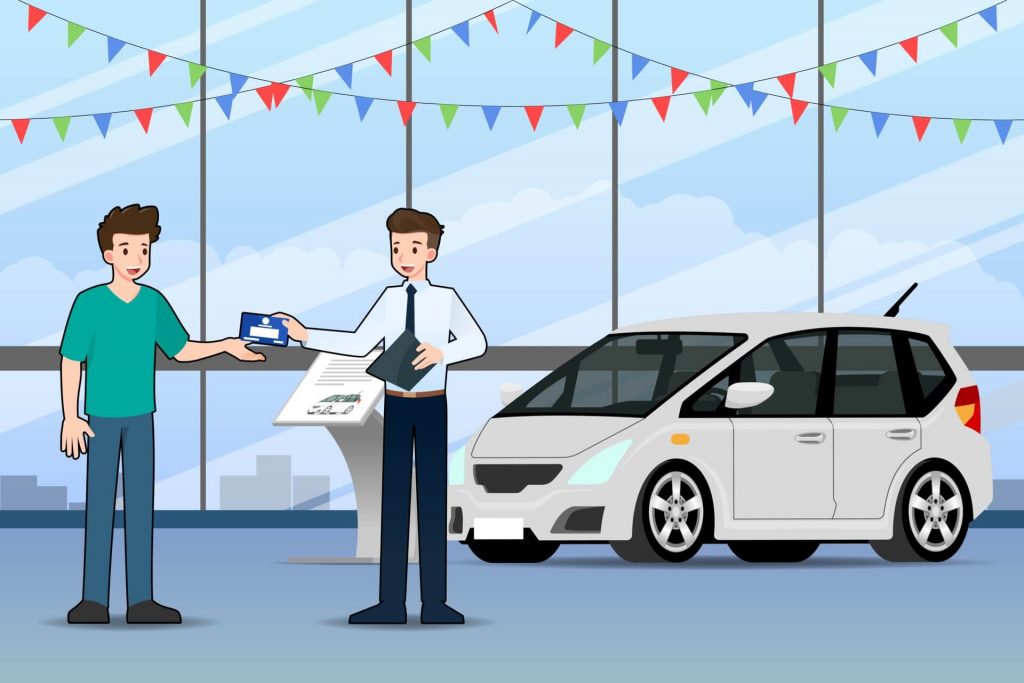 Car owners in Abu Dhabi have to renew their car registration every year. There is also a fear of being caught while driving a car in Abu Dhabi without car registration. We have prepared a comprehensive overview of the car registration renewal process, including all new updates and a guideline that helps you do it yourself conveniently, streamline the process, and make it very easy for you to renew your car registration without any problem.
How to renew car registration online in Abu Dhabi?
Car registration renewal is essential because the core purpose of car registration renewal is to ensure that every vehicle on Abu Dhabi roads is safe. Hence, traffic police make sure that no one is driving in Abu Dhabi without car registration.
By Abu Dhabi Police Official Website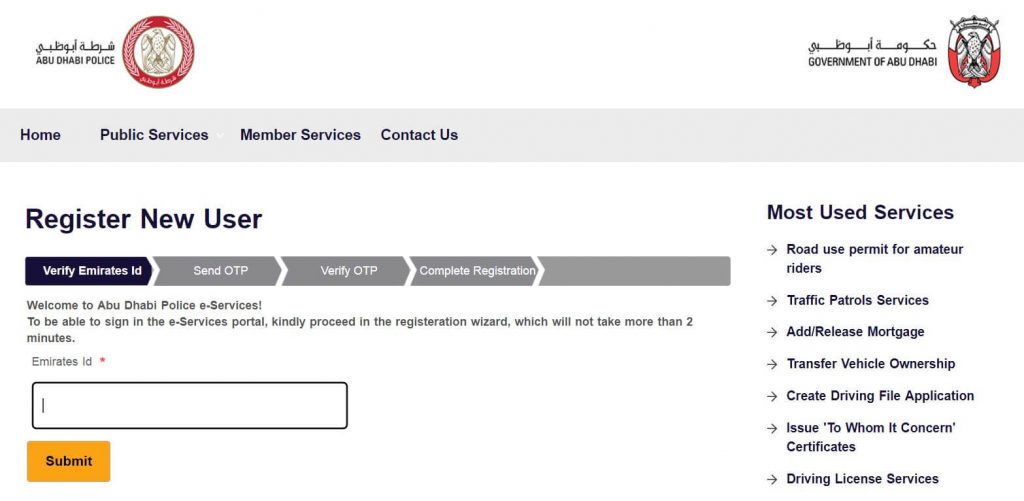 You can renew your car registration through Abu Dhabi Police official website. You have to enter the emirates ID, fill out the form by entering your details correctly, and attach the online copy of the required documents once you're completed with your application by making an online payment and selecting a delivery method.
By TAMM Website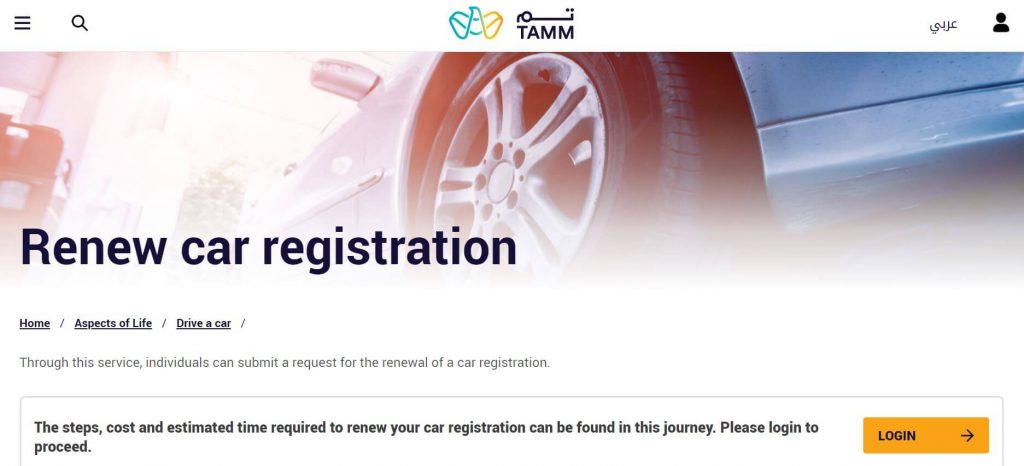 You can go directly to the TAMM Abu Dhabi Official page for car registration renewal and enter your credentials, similar to the Abu Dhabi Police official website link mentioned above for the car registration renewal. It will also take around five working days to renew your existing car registration.
Address: Al Muroor, Abu Dhabi
Contact number: +971 2 446 1461
Email: [email protected]
Possess a Valid Car Insurance Plan
A valid car insurance policy is a must for car registration renewal. All over UAE, at least third-party car insurance is compulsory. However, a comprehensive car insurance plan would give various risks a wide range of coverage. Usually, a car insurance plan is valid for 13months in Abu Dhabi. So, you have to make sure that your car insurance plan does not expire when going for a car registration renewal. If your car insurance plan expires, don't worry! We recommend you renew your car insurance plan, which best suits your condition at a very reasonable price, by consulting BuyAnyInsurance.
Documents Required
You need the following documents to proceed with car registration online:
A valid car insurance
Passed vehicle inspection
Emirates ID
Driving License
Old Car Registration
Completed registration with Emirates Vehicle Gate
Vehicle Inspection
Abu Dhabi police have authorized companies like ADNOC distribution, Fix plus, Auto central, etc., to inspect the car and issue a certificate based on the vehicle's current health. These companies have to check your car health based on the standards and give you a certificate of car fitness on the payment of around AED 170, and the whole process will take 20-40minutes, which can be used for the car registration renewal purpose. Whereas, Your vehicle inspection certificate will be valid for the next 30 days.
Finding a Car Registration Renewal Center
There are several car registration renewal centers in Abu Dhabi. You can select one which is quite near to your place.
ABC (ADNOC Business Center)
Address: 308 Zayed The First St, Al Bateen, Abu Dhabi
Al Bateen
Address: 15th Street, Al Bateen, Abu Dhabi
AL DAFRA
Address: Al Ain Truck Road, Abu Dhabi
AL MADINA
Address: Al Salam Street, Abu Dhabi
AL MAQTA
Address: Al Maqta 140, near Rihan heights, Zayed, Abu Dhabi
Types of Car Registration Renewal
There are two types of car registration renewal processes. One must prepare all the relevant documents and go to the authority office in person. The second is to apply online for the registration renewal:
In-person Car Registration Renewal
You have to prepare all the relevant documents mentioned in the article and visit any authority center near your place in Abu Dhabi to renew your car registration. You have to stand in the line, make a manual payment, and wait for your turn. However, you can get the renewal on the same day.
Online Car Registration Renewal
The online car registration renewal process is also straightforward. You have to visit the Abu Dhabi police official website or TAMM website to process your renewal application. It will take around five days to proceed with your application. Once you have made the payment, you will select the delivery method or self-pick from an authorized center to complete your application. In delivery, the charges would be around AED 12 to AED 20.
Expired Car Registration Fine in Abu Dhabi
Driving a Car in Abu Dhabi with an expired registration is highly prohibited. Vehicle Registration Renewal Abu Dhabi timing should be before its expiry. Abu Dhabi police used to charge fines for driving cars without vehicle registration. However, previously a 30 days grace period was given for registration renewal. But, now Abu Dhabi police has revised the policy related to expired car registration fines as follows:
Grace period for cars passing the toll is ten days.
After the grace period is over, AED100 would be fined passing through one toll and double on passing the second toll. At the same time, the third toll passage will give you a fine of AED 400.
Frequently Asked Questions
We have included all the relevant frequently asked questions which we have received from you, are as follows:
How much does a car registration renewal cost in Abu Dhabi?
It will cost you around AED 350.
What is the fine in case of car registration renewal delay?
Yes, you have to pay AED10/day if you fail to renew your car registration.
Can anyone else do your car registration renewal?
Yes, someone can also do your car registration renewal under the personal appearance service. You have to provide a PIN code to the person to use it at the authority office on your behalf.
How to get Mulkiya online in Abu Dhabi?
Car registration is often called as Mulkiya in UAE. You can get Mulkiya on Abu Dhabi Police website, under "registered vehicle inquiry" section online.
Conclusion
Vehicle registration renewal in Abu Dhabi is straightforward, and you can do it by yourself conveniently. Prepare all relevant documents necessary for the registration renewal and apply online or in-person to get your registration renewal. But, make sure to renew your vehicle registration before it expires. Otherwise, you will get a fine from the Abu Dhabi police. Furthermore, make sure to keep your car insurance up to date as well. For any questions, feel free to contact BuyAnyInsurance to get answers to your questions.
Related Articles
Originally published Feb 18, 2022 14:22:55 PM, updated Feb 18, 2022