Complete Guide to Medical/Health Insurance Renewal in UAE
Medical insurance is imperative to keep emergency expenditures at bay. It also helps to keep you and your family safe in case of an accident or a medical emergency. Getting treatment in advanced hospitals can be really costly and it can have a financial crunch on you. So be safe, prepare for the future, and get medical insurance.
There are so many medical insurance service providers in the UAE that sometimes it becomes daunting to choose the best ones. You can read about the features online, compare prices, and then choose the best one based on your requirements and budget. Once you have the health insurance in place, you have to remember to get medical insurance renewal. This should be done timely so that you can avail all the benefits.
A health insurance plan is usually a one-year contract between the insurance provider and the policyholder and it has to be renewed before its due date. Generally, the insurance service provider sends the renewal notice to the policyholder to remind them about the upcoming expiry date. Medical insurance renewals in UAE are fairly simple and can be done online easily.
Benefits of medical insurance renewal before expiry
Medical insurance gets expensive with age
The younger you are at the time of being covered under a health insurance policy, the lower your health insurance premiums will be. So if your existing medical insurance is lapsed due to any reason, you might not get a new medical insurance policy and the premium of the same policy may also become more expensive.
Provides continuous protection
Most health insurance companies do not offer health insurance to customers after a certain age. This is because people usually have some pre-existing diseases or chronic conditions in old age. To avoid a situation when one may need health insurance and cannot get it, they should get it when they can. Renewing health insurance on time ensures continuous protection as per the terms and conditions at which the policy was purchased.
Medical insurance renewal online
Follow these steps and you'll be able to renew your medical policy online –
Visit the insurance service provider's official website
Go to the medical insurance renewal section on the website
Enter your previous medical insurance policy number and registered mobile number
Check the policy details carefully and the premium amount
Pay using any convenient payment method and get your policy in a few minutes directly in your inbox
Medical insurance renewal grace period
One of the most commonly asked questions regarding health insurance renewal is – what is the grace period in health insurance plans? The answer is 15 days. Insurance companies usually provide a grace period of 15 days from the due date for paying the renewal amount. In case you fail to make the renewal payment, the policy will lapse and you will lose the accumulated benefits such as the waiting period benefits, No Claim Bonus etc.
Things to consider during health insurance renewal
Although the process of health insurance renewal is fairly simple, there are certain things you should keep in mind: –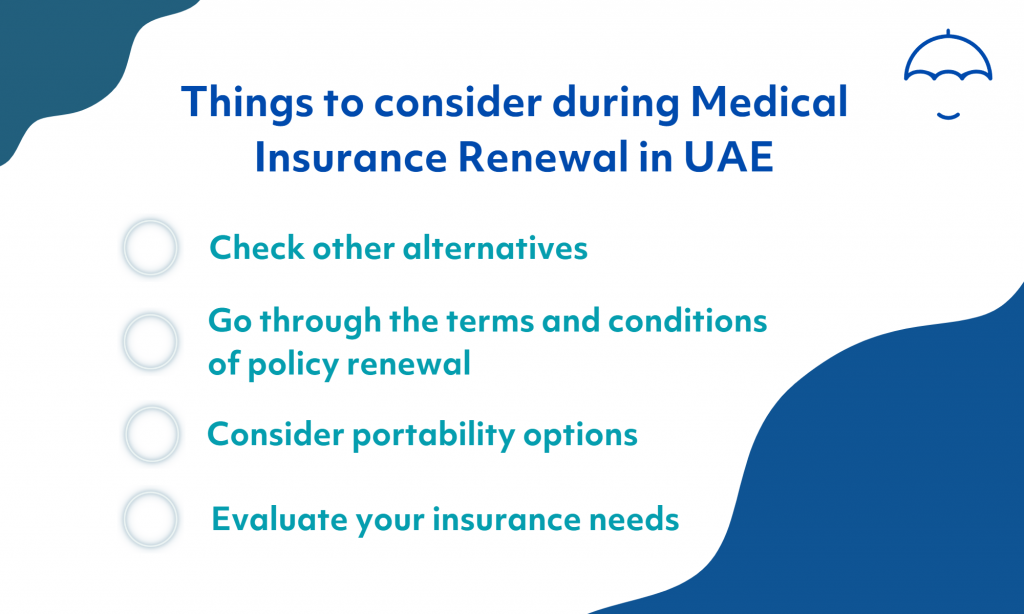 Usually companies send a policy renewal reminder 45 days prior to the expiry date. This reminder email tends to carry the details of the policy like the sum assured, the type and number of claims made, no-claim bonus etc. It is recommended that you go through the renewal documents carefully and read all the terms and conditions.
Go through the terms and conditions of policy renewal
With increasing competition in the industry, it is possible that you might have some better deals and features in a medical insurance policy from a different insurance service provider. Make sure to weigh the pros and cons before getting your policy renewed. Check for alternatives available and whether they fit your budget and requirements or not.
Consider portability options
You can transfer the existing policy from one service provider to the other. This process is known as health insurance portability. Among its many advantages, the policyholder primarily does not miss out on the benefits of the health insurance in UAE like the no-claim bonus or the waiting period whilst transferring the policy from one provider to another.
Evaluate your insurance needs
Healthcare cost is constantly increasing and is predicted to increase in the future as well. There might be chances that your current health policy might not be sufficient for you keeping in mind your increasing age and other health related factors. It is important to assess the present and future requirements when it comes to insurance. Depending on your requirements, it is best to choose a higher sum insured or one might even consider adding a rider to their base policy.
Tips for easy medical insurance renewal in UAE
When renewing your medical insurance policy, it is important that you make an informed decision. These tips will be helpful –
Policy renewal before expiry date
Remember the due date of your policy renewal. This is important because if you don't renew within the grace period of 15 days, your policy can lapse and you'll lose all the benefits.
Read all policy related documents carefully
Make sure to read all the policy related documents carefully. The terms and conditions about medical insurance renewal would also be mentioned, so read them carefully.
Opt for a higher sum insured
Policy holders get the flexibility of increasing the existing sum insured at the time of renewing their medical insurance. You can opt for a higher sum insured amount after undergoing medical tests and revision of claim history. Keep in mind that you cannot opt for a sum insured option higher than the maximum sum insured option available under a policy. In such cases, a top-up can be added to your policy.
Disclose new illnesses at the time of renewal
To ensure a smooth claim settlement process, make sure to disclose any new illness at the time of medical insurance policy renewal. Get a proper health check-up done and be honest about the conditions not just at the time of buying the policy, but also at the time of renewals.
Frequently Asked Questions (FAQs)
What are the benefits of medical insurance renewal?
Getting medical insurance renewal in UAE is simple and convenient. The main benefits are –
You get the much needed financial stability
You get access to cumulative bonus (which continues to accumulate for each claim free year)
You can continue the benefits of the policy without any break
You are properly covered and don't have to worry about risk
Does my medical insurance get renewed on its own?
No, the insurance plans do not get renewed on their own. You are required to renew the existing medical insurance before it gets expired to reap all the benefits. Also, in case you forget to get your policy renewed on time, a grace period of 15 days is given after the expiry of the policy, when you can get your policy renewed.
What happens if I miss my premium renewal date?
There can be various consequences –
No coverage – In case a health insurance claim is made after the due date, then you will not be able to get cover for the same even if it is made during the grace period.
No-claim bonus – Health insurance companies offer you No Claim Bonus which is a reward for not making any claim during a policy year. If you do not renew your health insurance policy on time, then you may lose this benefit.
Waiting period will be applied again – Generally, there is a waiting period of 36 months-48 months under health insurance plans for pre-existing diseases. If you fail to renew your health insurance plan on time, then you will be treated as a new policy buyer.
Originally published Dec 07, 2022 14:41:14 PM, updated Dec 07, 2022