Know all about medical insurance UAE cost and how it is beneficial
Medical insurance is one thing that should not be neglected. If you haven't gotten yourself a medical insurance policy, then now is the time to get one. And if your medical insurance is expired, then you can compare policy prices online on
BuyAnyInsurance
portal to get the best deals.
A lot of people think that the cost of medical insurance in the UAE is too high. That's not true. There are so many medical insurance service providers across the UAE that offer affordable insurance plans across various categories. You can go through the policies online and then choose one that fits your budget.
What is medical insurance?
A medical insurance is an official contract between the company and the policyholder that covers the policyholder to meet treatments across different hospitals across the UAE. The medical insurance pays the medical cost of the policy bearer through cashless treatments or reimbursements.
According to the federal laws, medical insurance is mandatory in the UAE. Most employers provide medical insurance to their employees, but you can also buy an individual medical insurance policy.
Types of medical insurance in the UAE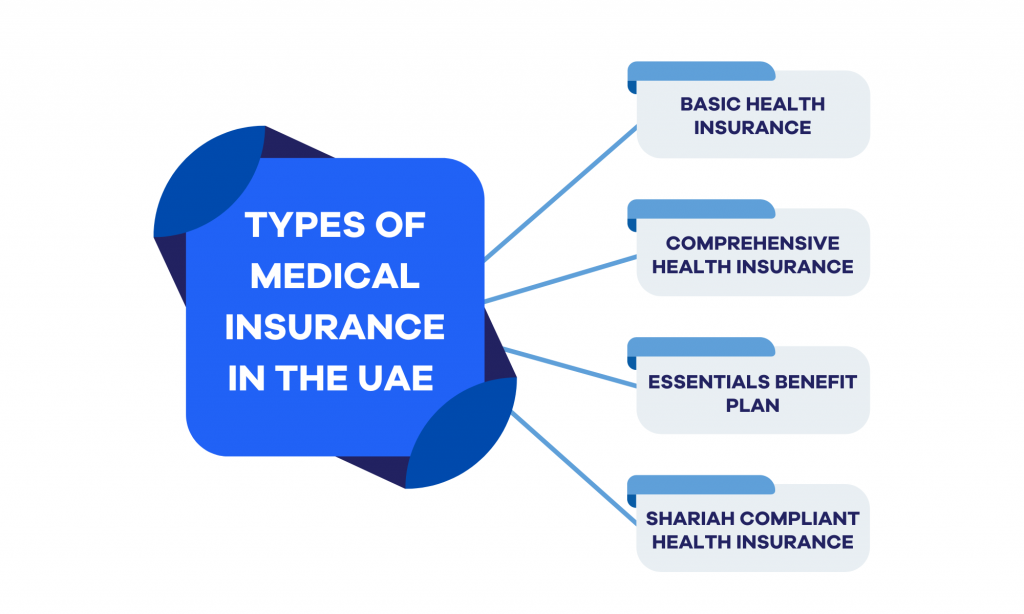 Basic health insurance
As per its name, a basic health insurance plan covers the policyholders against all the medical expenses caused due to an injury or illness. These plans cover the cost of treatment when you or your family members get admitted to a hospital. You should know that all the plans in this category come with different monthly and annual insurance premiums.
Comprehensive health insurance
Comprehensive health insurance provides the most extensive coverage against medical expenses. It covers both outpatient as well as in-patient medical expenses, including diagnostics and tests, cost of medicines, doctor's consultations, etc. Medical insurance UAE cost for comprehensive health insurance can vary depending upon the plan you choose.
Essentials benefit plan
This is the minimum amount of health insurance required by the government. Every resident and citizen must have at least the EBP policy. However, this cover is valid for those residents in Dubai earning less than AED 4000 per month. Though EBP is basic healthcare it provides coverage for medical emergencies, in and out-patient consultations, drugs, as well as maternity coverage. It is prudent to note that these coverage come with restrictions and limitations due to the EBP being a basic package.
Shariah Compliant Health Insurance
Shariah Compliant Health Insurance is also known as Takaful Insurance. Takaful health insurance enables members to contribute money to support each other's medical expenses. These are usually based on Islamic religious law and explain that individuals are responsible for protecting each other. Takaful health insurance plans offer both life and health insurance benefits.
10 best medical insurance service providers in the UAE
Finding the best medical insurance service providers among the plethora of names can be a daunting task. Here are the top 10 names in the industry that you can trust –
AXA Gulf Insurance
Orient Health Insurance
Emirates Insurance Company
Adamjee Health Insurance
Abu Dhabi National Insurance Company
Daman Health Insurance
Ras Al Khaimah National Insurance
Dubai Islamic Insurance & Reinsurance Company
MetLife Health Insurance
Oman Insurance Company
Each of these companies have their own plans and you can easily compare medical Dubai cost online.
Medical insurance UAE cost
Medical insurance services in the UAE are considered to be one of the best in the world. If you want to avail the best services, you need to shell out a certain amount of money. But medical insurance Dubai cost is really effective and you can definitely find a plan that fits your budget. The advantages of an average medical insurance plan are –
An average medical insurance cost for an individual in the UAE can cost up to AED 10000 per annum.
For basic medical covers, the cost of family medical insurance in Dubai ranges between 17000 AED to 18000 AED.
Comprehensive health insurance plans for expats can cost up to AED 5500 per annum.
Benefits of buying medical insurance from BuyAnyInsurance
Get the best medical insurance prices in the UAE with BuyAnyInsurance
Compare different policies and save money by choosing the best policy
Get a 20% No-Claim Discount on your medical insurance
Choose from trusted and leading global partners
Our professional team is available 24/7 to help you.
Medical insurance to visit UAE
Many people ask this question – I am visiting the UAE, do I need specific medical insurance? Getting travel insurance for Dubai is mandatory, if you need a valid visa. You won't be able to apply for a visa until you show a valid proof of obtaining travel insurance for Dubai. The medical insurance for visit UAE cost should cover –
Medical emergencies – try and look for a policy that covers ambulance and ER, surgical procedures, doctor's visit, hospitalization, and the cost of medicine.
Trip disruptions – choose a policy that gives coverage for any non-refundable reservations or deposits that you have made
Loss of personal belongings
Coverage for emergency evacuation or repatriation of mortal remains
Frequently Asked Questions (FAQs)
Is medical insurance expensive in the UAE?
Medical insurance falls into various price brackets in the UAE. For a reasonable comprehensive medical insurance plan, you would be expected to pay around 10,000 AED. But there are different options available depending upon your budget. The basic medical insurance UAE cost starts from around 5500 AED per year. You can compare different medical insurance policies on BuyAnyInsurance and get the best deal.
Is medical insurance mandatory in the UAE?
Yes, medical insurance in mandatory in the UAE. It is for your safety and there are various medical insurance service providers that you can choose from. Select medical insurance Dubai cost and compare different plans online to shortlist the one that suits you the best.
Can I buy my own health insurance in Dubai?
Yes, you can easily buy your own individual medical insurance in any of the emirates of the UAE. A lot of organizations provide group medical insurance for their employees, so you can avail those benefits as well. In addition to individual policies, you can also get medical insurance for senior citizens and get special add-on covers for your family and children for their complete safety.
What is the geographical coverage limit for medical insurance in Dubai?
While most insurance plans offer worldwide coverage (except the USA and Canada), you can also choose local policy at affordable rates in Dubai.
Are maternity coverage benefits included in the best medical insurance Dubai cost?
Basic medical insurance plans may not cover maternity expenses; it is better to go through the insurance inclusions while applying for health insurance in Dubai.
Author Bio
Kritika Manchanda is a content writer with BuyAnyIsurance. She has more than a decade of experience of churning out SEO friendly content. When she is not writing, she is either reading, or making travel plans.
Originally published Nov 24, 2022 10:22:05 AM, updated Nov 24, 2022