How much can you spend to Get a License Plate in Dubai?
How Much Can You Spend to Get a License Plate in Dubai?
If you want to drive a vehicle in Dubai, you must possess a valid driving license and must have to register your vehicle, get a valid Dubai license plate, and fix it on your car. Normally, each short plate costs 35 AED, while each long plate costs 50 AED. If you're looking for Dubai branded plates, you can expect to pay 200 AED. Expo branded plates cost 100 AED, and luxury plates will set you back 500 AED.
Dubai License Plate Prices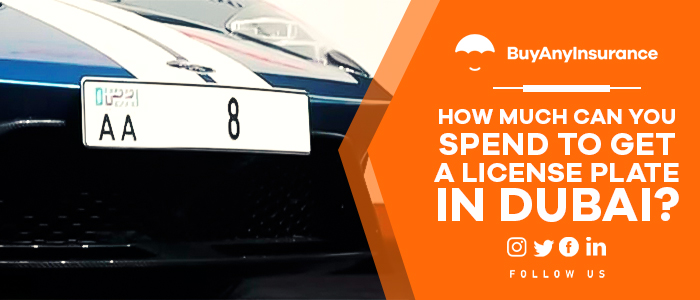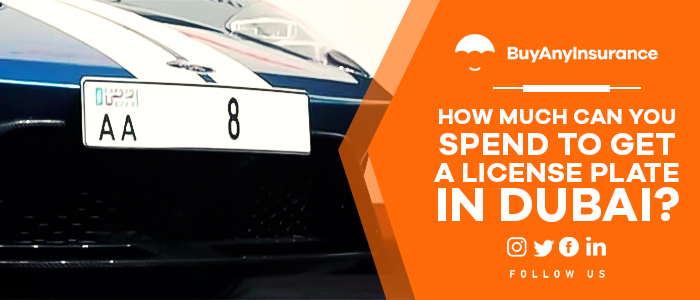 Dubai License plates costs for RTA new number plate are determined by RTA authority, as mentioned below:
The short plate costs 35 AED
The long plate costs 50 AED
Expo branded plates cost 100 AED
Dubai branded plates cost 200 AED
Luxury plates will cost you 500 AED
Service fees are 50 AED for a new ownership certificate, 10 AED for an expiry sticker, and 20 AED for knowledge and innovation fees.
Note: The prices may be changed with the passage of time, as per the RTA authority.
Changing Dubai License Plate
According to the RTA, individuals (citizens and residents) and companies are eligible to apply to change their vehicle's number plate.
If you're looking to get your personal car's RTA plate number changed, you will need to provide the following documents:
Car ownership certificate
Original Emirates ID or valid visa
Original vehicle number plates to hand over
A report from the police if one or both plates have been lost
FAQs About Dubai License Plate
We have received many frequently asked questions related to the Dubai License Plate, as mentioned below:
What is the Dubai number plate?
On a white plate, Dubai license plates can have one or two letters: A to AA. Numbers contain a maximum of five digits.
How do I get an RTA number plate?
You can get your car number plate from one of the RTA centers and can apply online at rta.ae official website:
Log in using the username and password.
Select Licensing Services.
Selects My Plates (Request for a special plate).
Enter the required details.
Pay the fees by debit or credit card.
How can I get a new number plate in Dubai?
You need to contact the RTA Call Center on 8009090. The customer provides the Call Center with the number of the traffic file. The customer settles the fees by credit card. The customer receives the certificate and the new plates from the Customer Happiness Center in Deira or Al Barsha and hands over the old plates.
Who owns the number plate 1 in Dubai?
The 'most prestigious' number plate in Dubai features the number one, which no one can buy as it belongs to Sheikh Mohammed bin Rashid Al Maktoum, the vice president and prime minister of the United Arab Emirates.
Who has the number 2 license plate Dubai?
Emirati businessman Ahmed Al Mazroui won the bid to own the exclusive Abu Dhabi number 2 plate for a whopping Dh10 million.
What does a three-digit license plate mean in Dubai?
It's three and below where people trip over themselves to do things for you. Three-digit plates are probably what the CEO of your company sports. They're pricey, really pricey, but any rich folk in Dubai or Abu Dhabi could grab one. These plates normally clock in at five or six figures. In comparison, sequential three-digit plates go for as much as Dhs500,000!
How much is a four-digit number plate worth in Dubai?
A four-digit number plate – H 1030 – will be available in the auction for a reserved bargain price of Dh3,000, as will be a couple of distinctive 5-digit number plates – I 11222 and F 77788.
How much does a five-digit number plate cost in Dubai?
U-coded plates will cost approximately Dhs1,620 each for five digits, while plates with fewer digits become far more expensive.
How can I get my registration card online?
Register at www.RTA.ae
Visit Licensing Services.
Select My Vehicle from the Licensing section.
Choose your vehicle and choose more actions
You can choose to replace your registration card.
You can choose the most convenient method to have your permanent card delivered.
All fines and transaction fees must be paid.
Receive your temporary registration card.
Special Dubai Number Plates
The RTA launches special number plates sold directly or by auction. You can participate in an auction for a unique number plate, whether you're a Dubai citizen or a resident. You can apply online to participate in the auction. These auctions occur in person, known as Hall Auctions, and electronically.
How to register yourself for an online number plate auction in Dubai?
Let's see how we can register for an online auction for special number plates in Dubai.
Step1: Click RTA's official website rta.ae
Step2: Enter your user name and password.
Step3: Click on the Auction button.
Step4:Enter Your Required Details.
Step5:Go to the "Licensing Service" section
Step6:Click on "Request for Special Plate."
Step7:Click on Electronic Auction and choose the number you want to bid on.
Conclusion:
Dubai License Plate varies from 0 to 5 digits, and the less digit number plate costs more than, the more digit number plate. RTA offers special number plates in the auction as well. You can directly apply online for the special number plates auction. But, remember that once you register your vehicle in Dubai, you can not drive it until or unless you have at least third-party insurance. Furthermore, please feel free to contact BuyAnyInsurance for good advice on car registration, number plate, and car insurance.
Related Articles:
How to Transfer Your Driving License
How to Get Driving License in Dubai
Originally published Aug 16, 2022 17:00:14 PM, updated Feb 20, 2023