Comprehensive car insurance – what is it?
What is
comprehensive car insurance
, and what are its features and benefits? What is the difference between
comprehensive insurance
and third-party insurance? One of the most common and frequently asked questions in the world of car insurance. It is useful to find answers to these important questions, and to
compare car insurance
offers, to know the insurance coverage or benefits that you will get before purchasing a car insurance policy.
Comprehensive car insurance protects third-party physical and financial damages and injuries as well as damages to your vehicle. Comprehensive insurance is characterized by the fact that you can add many features to the insurance policy to benefit from it and obtain better protection, which is for an additional financial premium.
Also, comprehensive car insurance coverage can help pay for damages to your vehicle caused by non-collision damages. For example: obtaining insurance coverage against theft, flood, fire, or collision with an animal.
The insured receives compensation from the insurance company, in return for paying the agreed premiums, and the insurance company is obligated to pay compensation to the insured in the happening of damage to the car under the insurance policy, during the period of validity of the policy, whether it was caused by the accident or any other damaging way.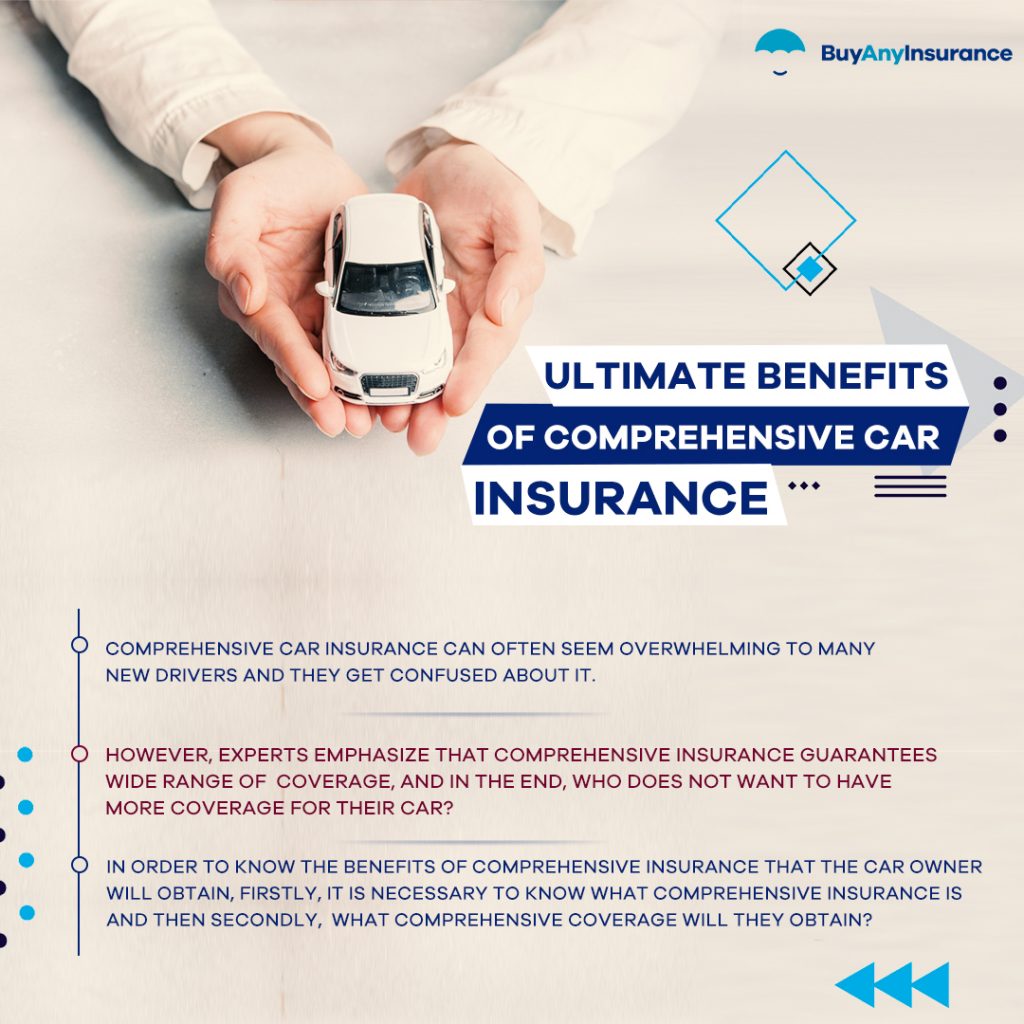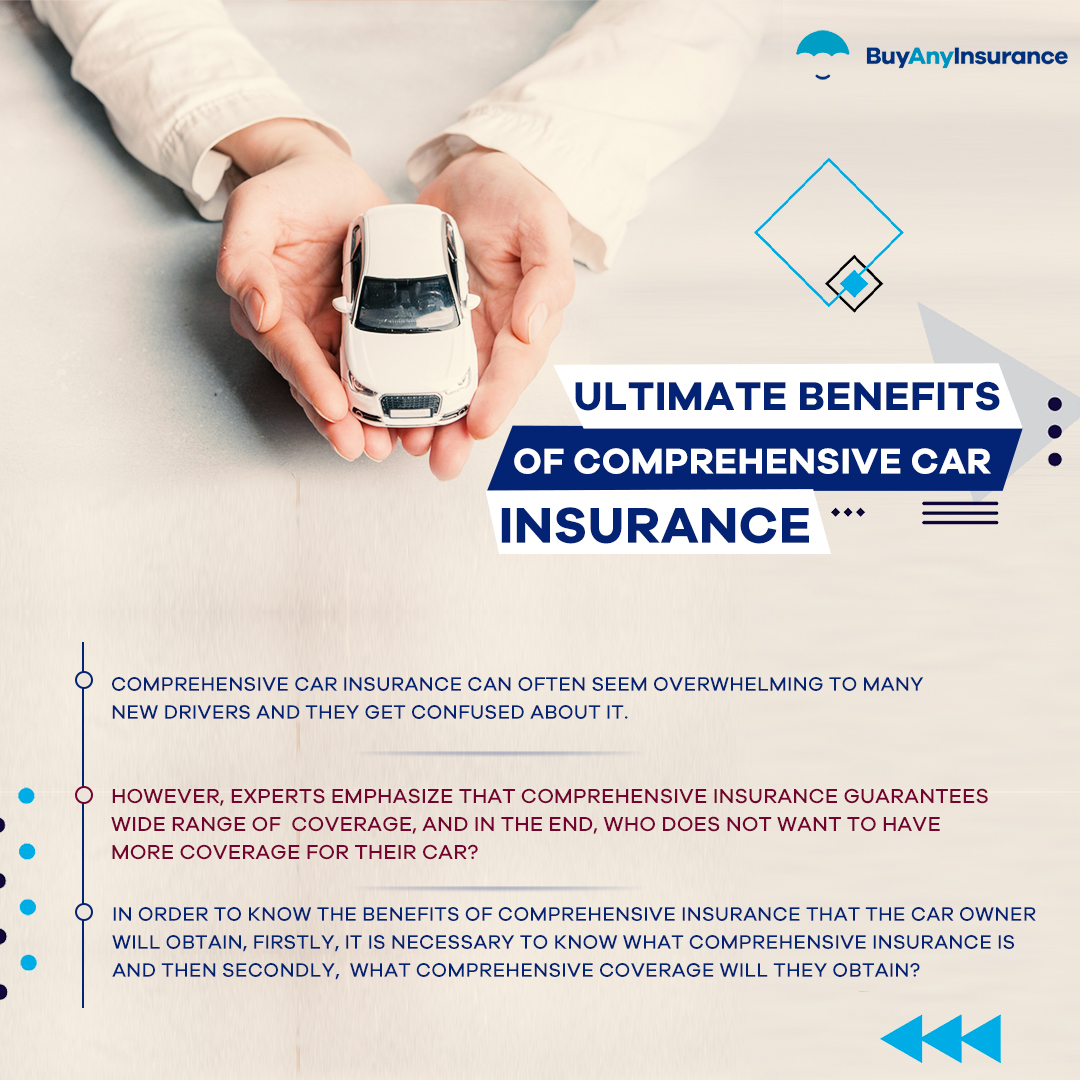 What does comprehensive car insurance cover?
Comprehensive car insurance covers damages resulting from:
Vehicle damage to third parties
Damage to the insured vehicle
Personal accidents for the third party, the driver, the passengers, and the family
Fire / external explosion / self-ignition / lightning strike
Burglary or theft
A deliberate act of a third party
Transportation including loading and unloading
Roadside assistance
Comprehensive car insurance coverage does not cover damages resulting from:
✗ Driving without a license.
✗ Vehicle consumption.
✗ Damage to mechanical or electrical devices
✗ Car or vehicle overload, Increasing the number of passengers in the car.
✗ Tire damage, if not at the same time, damage to the insured vehicle.
✗ Invasion, foreign enemy actions, or hostilities.
✗ Using the car in a race.
✗Driving under the influence of drugs or alcohol.
✗ Natural disasters unless included as an additional appendix.
Additional Covers in Comprehensive Car Insurance
Following are the additional covers which you can include in your comprehensive car insurance policy at your request:
Zero Depreciation Cover
No claim bonus protection cover
Engine Protection Cover
Roadside Assistance Cover
Return to Invoice Cover
Daily Allowance Cover
Passenger Cover
Windscreen Cover
Consumables Cover
Tyres Protect Cover
Kep Replacement Cover
Loss of Personal Belongings Cover
Pros & Cons of Comprehensive Insurance
Pros
Covers a variety of unexpected events or uncertain situations.
It can save you a lot of money on repair or replacement costs covering financial liability if your car is newer and has a high value.
Cons
Costs more than the minimum required coverage, increasing your car insurance budget.
Not much worth the price if your car is older and has little market value.
Limits and deductibles in comprehensive car insurance
The deductible is the amount you will pay when you claim compensation, and before your insurance coverage begins. Once you pay the deductible, the comprehensive insurance will cover the rest of the costs up to the insurance coverage limits of the policy.
Let's say your car is damaged and it will cost you about 12,000 dirhams to repair it. The endurance rate was 2000 dirhams. In this case, you will pay 2,000 dirhams from your wallet only, after which the insurance company will pay 10,000 dirhams in compensation.
The Insurance Authority has indicated that the insurance company may charge the insured the deductible according to the following detail:
10% maximum if the driver's age is less than 25 years 25
Maximum 20% for rental vehicles
10% maximum for public vehicles
15% maximum for sports and fitted vehicles
Maximum 20% for vehicles fitted outside the factory
What is the cost of comprehensive car insurance in the UAE?
Comprehensive insurance rates differ from one company to another, as different factors play in determining the cost of comprehensive car insurance coverage premiums, for example:
Car making and model
Driver's driving record
Years of Experience
Driver's age
endurance ratio
Additional Features
If you are planning to purchase comprehensive car insurance, choosing a higher tolerance rate helps lower the cost of the premium. However, in return, you will have to pay more than your wallet if you have an accident. Conversely, if you choose a lower tolerance rate, you will pay higher premiums in terms of cost, and a lower tolerance rate when a car accident occurs.
You can get comprehensive insurance quotes online immediately, by visiting the car insurance comparison platforms. The BuyAnyInsurance platform provides you with comprehensive car insurance coverage offers from the best insurance companies in the UAE. These offers are specially designed for you, according to the specifications of the car and the driver.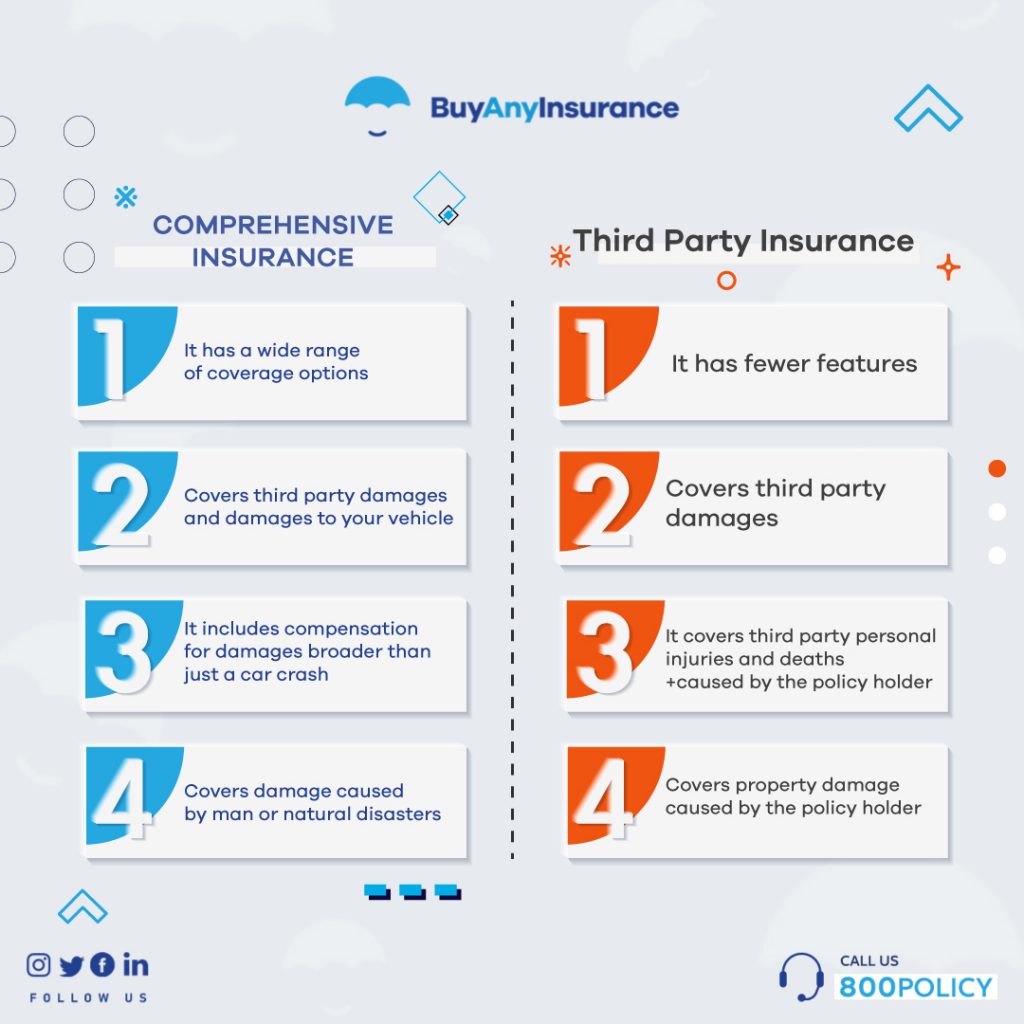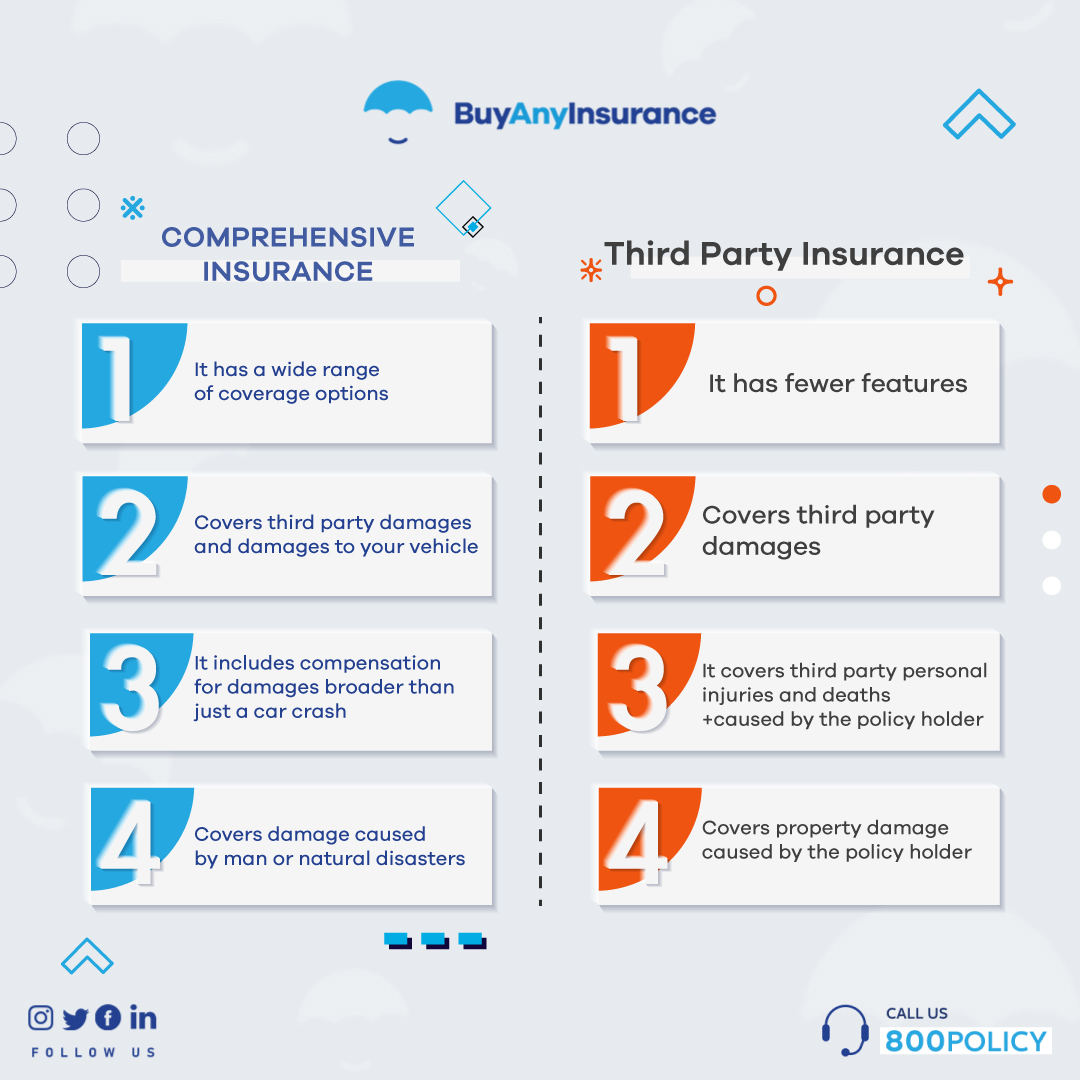 Comprehensive Insurance Benefits
According to a recent analysis of BuyAnyInsurance, 68% of customers prefer comprehensive car insurance, compared to 32% who voted for third-party insurance. If we exclude the financial cost, we will find that comprehensive insurance is superior to its counterpart insurance against third parties with many advantages that you can add to the comprehensive car insurance covergae policy, such as:
Car repair at the agency
Off-road driving
Natural disaster coverage
Windshield damage coverage
Covering GCC/Oman
Personal property coverage
Driver's accident coverage
Passenger accident coverage
Ambulance service
Civil fighting and riots
Emergency medical expenses
Theft in valet parking
lock replacement
Many insurance companies also offer roadside assistance, which includes the following features:
Mechanical first aid
battery service
lock service
Flat tire service
Towing Services
There are also some special features, such as:
Free compulsory unemployment coverage
Gap lock for a brand new vehicle
Alternative car fare up to 250 dirhams
Automatic gap insurance for the first 6 months of the car's life only
Discounted International Driving Permit
The benefits and cost of comprehensive car insurance coverage differ from one company to another, as each offers packages with different benefits. However, they all share a broad and clear heading that emphasizes that comprehensive car insurance coverage means better protection. This will give you peace of mind and reassurance when you drive your car on the roads and streets of Dubai and the UAE.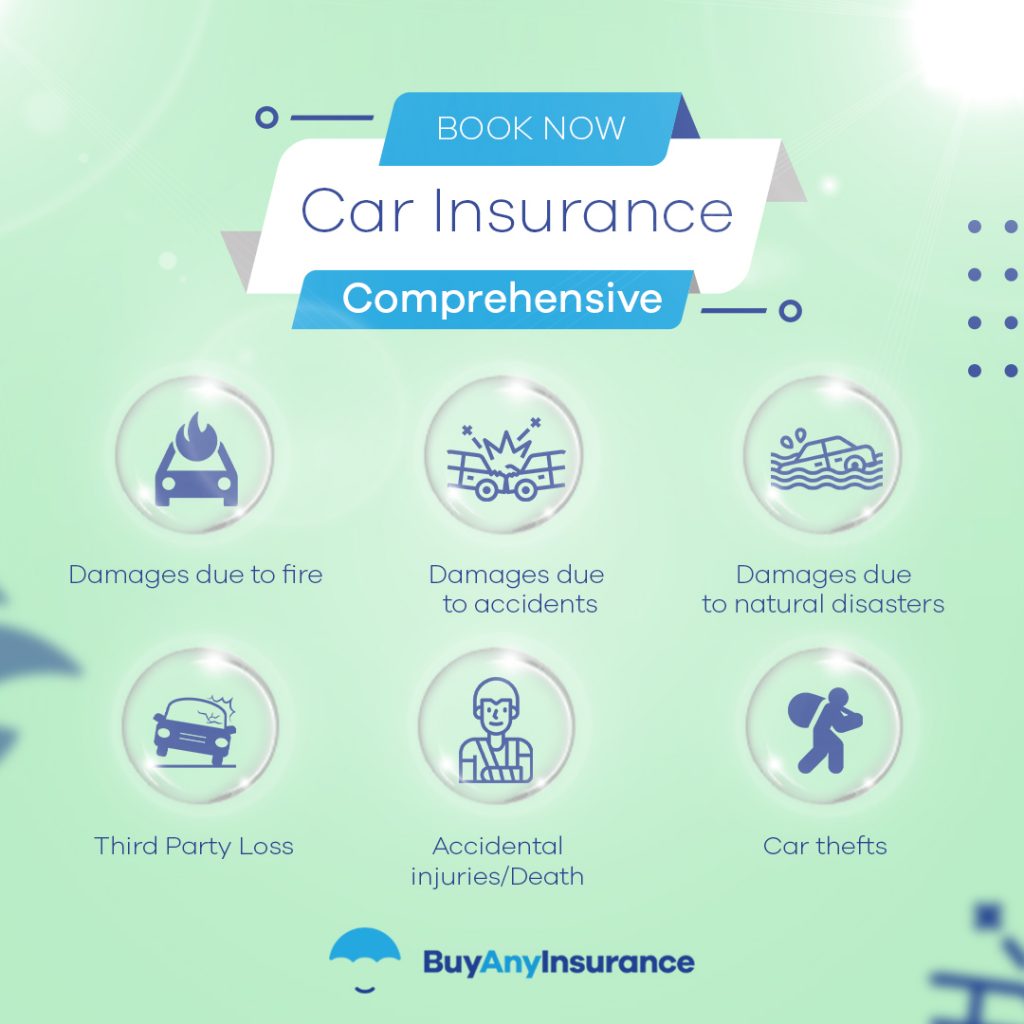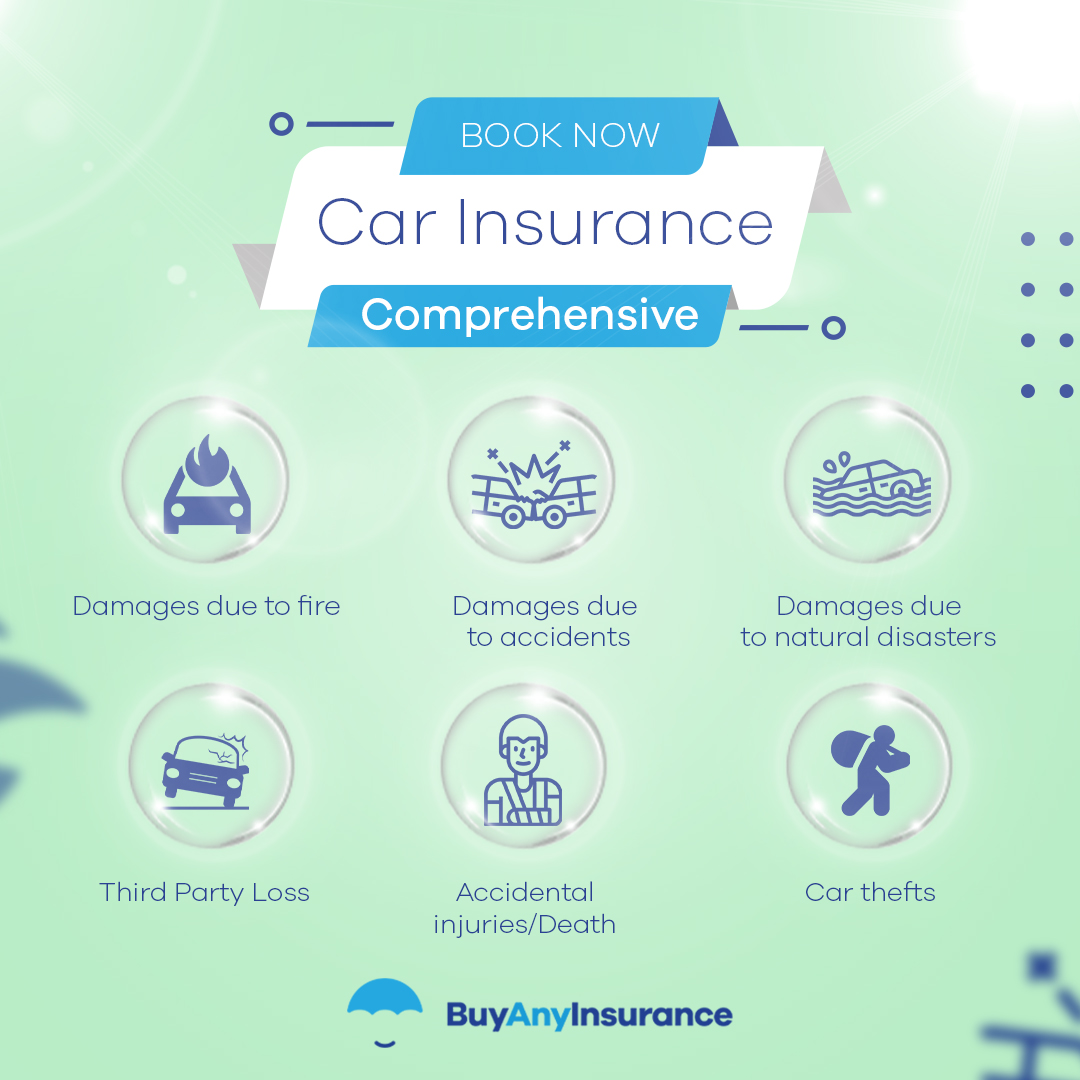 Comprehensive vs Third-party liability car insurance
Some may confuse comprehensive insurance with third-party insurance, because both provide insurance coverage for the car, yet each has its unique advantages.
Read more: Third-Party Liability Insurance – All There Is To Know
The main difference between comprehensive or third party car insurance is that third-party insurance covers motor vehicle accidents, while comprehensive car insurance coverage gives broader protection than that, to include compensation for damages beyond your control as well, such as hitting a tree, animal, fire, or theft.
The most important differences between comprehensive or third party car insurance are:
Comprehensive insurance vs third party insurance
Damage type
full insurance
Third-Party Insurance
personal vehicle
✔
✘
third party vehicle
✔
✔
personal injury to you
✔
✘
Third-party personal injury
✔
✔
Personal injury to third party passengers
✔
✔
Fire damage to your vehicle
✔
✘
Damage caused by theft of your vehicle
✔
✘
Damage caused by natural disasters to your vehicle
✔
✘
Damage to the property of the other party
✔
✔
How to Purchase a Comprehensive Car Insurance Policy Online?
Purchasing comprehensive car insurance coverage online is very simple. You need to follow six steps to purchase the best comprehensive car insurance coverage policy for your car, as mentioned below:
1. Prepare your car-related information in one place
2. Enter the required information on the insurance portals like BuyAnyInsurance.ae
3. Get a quote from online insurance portals
4. Compare the Quotes
5. Purchase the best comprehensive car insurance policy that best suits your needs
6. Make the payment online with your debit or credit card
How Comprehensive Car Insurance Premium Calculated?
The car insurance calculation varies with different variants like there is no standard rule for the exact amount of premium to be the same for every motor car. It differs from vehicle to vehicle and situation to situation. But, the basic formula to calculate the premium is the same for every vehicle as mentioned below:
Car Insurance Premium= Own Damage Premium – (No claim benefit + Discounts) + Fixed Liability Premium
| | | |
| --- | --- | --- |
| Factors affecting Premium | Car Manufacturing Year(2014) | Car Insurance with no claim benefit |
| Car Ex showroom rate | 250,000 | |
| Depreciation | 25% | 62,500 |
| Insured Declared Value | 185,500 | |
| Own Damage Premium | 1.67% | 3560 |
| No Claim benefit discount | 20% | 850 |
| Total own damage Premium | 2550 | |
| Personal Accident Cover | 150 | |
| Legal liability paid to the driver | 40 | |
| Compulsory Third-party insurance | 900 | |
| Net Premium | 3640 | |
| Service Tax | 14% | 510 |
| Total Premium | 4150 | |
Car insurance premium calculation example
Note: Above mentioned example is a basic criteria to calculate insurance premium. However, it may vary from insurance company to company.
Who needs to buy comprehensive car insurance?
All residents of the UAE can benefit from comprehensive car insurance coverage. It is recommended to purchase this document if you live or work in a crowded city, where there are frequent car accidents, theft, or vandalism. In such a case, comprehensive car insurance coverage plays an essential role in protecting you from the dangers facing you.
You can ask yourself the following questions to know if you need comprehensive insurance?
Are you a new driver, or do you have enough driving experience?
Perhaps one of the most important questions that will determine your choice of comprehensive car insurance or third-party insurance policy. Some insurance companies even refuse to provide customers with recent driving experience third-party insurance, considering them to be high-risk drivers. If you are a new driver, get comprehensive car insurance coverage without thinking, especially since driving in cities like Dubai is very difficult and stressful.
Do you live in a crowded city and do not know which insurance to choose?
There are different types of people in crowded cities, and your car could be theft, fire, or intentional damage from a third party. In other scenarios, your car parked at night may be involved in an accident without knowing the identity of the driver who caused it. You may find some overestimation in this proposition, but these are stories that most of us have heard from UAE residents.
Do you need a geographic expansion?
If you move a lot due to the nature of your work to the Gulf Cooperation Council countries and Oman. It is natural to choose comprehensive car insurance coverage with the advantage of geographical expansion.
Do you live in an area with a lot of rain or sandstorms?
It is therefore worth choosing an insurance company that provides you with comprehensive car insurance coverage with the appropriate coverage to protect your car.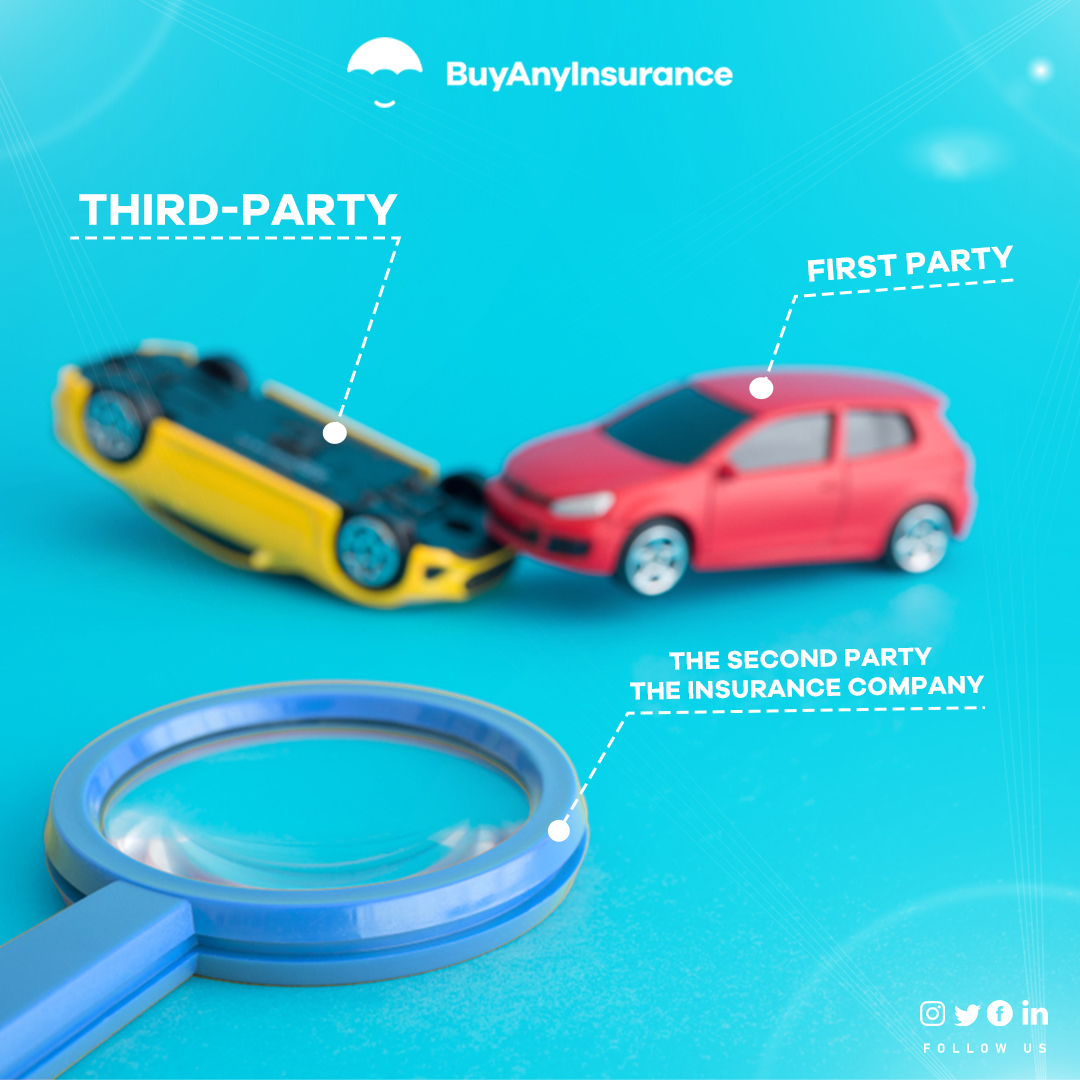 If you still have questions or some inquiries about comprehensive car insurance coverage, you can contact us any time, our team works around the clock 24/7, and they will guide you to the insurance policy that suits you and suits your needs. You can also compare car insurance offers online. Call us toll-free at 800764529, or leave us a comment and we'll get back to you right away.
FAQs
Is it worth getting comprehensive car insurance?
The rule for older cars is different: to drop comprehensive car insurance coverage after six years or 100,000 miles. In comparison, modern vehicles last longer and cost more to repair. Most car insurance experts now recommend keeping comprehensive insurance on your vehicle if 10 per cent of the car's market value minus the deductible exceeds the premium cost.
How to choose comprehensive car insurance?
Selecting the best comprehensive car insurance depends upon many factors like car model, driver's license, number of claims, etc. It may also include windscreen coverage or roadside assistance. However, having lower deductibles in your comprehensive car insurance is more logical.
Which insurance is better for a car – a comprehensive or third-party car insurance plan?
Due to uncertain situations, comprehensive car insurance offers more extensive coverage for financial liabilities. In contrast, third-party car insurance only covers the damages that your car can cause to another vehicle. A comprehensive car insurance policy provides complete coverage, and its premium is slightly higher than third-party car insurance. But, risk management of your car is good. So, comprehensive car insurance is recommended.
Can I shift my car insurance plan from a third-party liability plan to a comprehensive car insurance plan?
Yes, you can shift your third-party liability car insurance plan to a comprehensive car insurance plan. But, your insurance premium costs can be higher as a comprehensive plan gives you full coverage.
What is the cost of a comprehensive car insurance policy in the UAE?
A good comprehensive car insurance policy in the UAE starts from AED 600. But, it varies concerning various factors like car model, driver's experience, insurance claims, etc.
Related Articles:
All the necessary information on car insurance in the UAE
The Different Types of Auto Insurance
What Are The Essential Documents Required For Car Insurance?
2021 Car insurance Guide: Get Best Deals This year
Originally published Jun 20, 2021 11:36:55 AM, updated Jun 13, 2023