How to Sell Your Car in UAE
If you live in the UAE and want to sell your car, there are a few things you need to keep in mind and sort out. In this guide we'll help you understand how to sell your car in the UAE and all the other intricacies involved with selling your car in UAE. It is illegal in the UAE to put up adverts or sale signs on the car windows. You cannot sell your car in this manner. So how to sell your cat in the UAE? There are many portals available that can help you with proper and authentic sale of your car.
Try and improve your car's condition – get your car properly washed and cleaned, change the oil, fix all dents and scratches for a better look, use a vacuum to deep clean your car from inside, and make sure all the mechanical parts are in pristine condition. If you are trying to sell your car online and want to draft an ad for it, then make sure there are lots of pictures of your car. Buyers like to see the photos first and only if they find the pictures appealing will they come to see the car physically. Take pictures from different angles, make sure your car is clean, take pictures in bright sunlight, and take photos horizontally from the front and back.
What Are All Documents required for selling your car in UAE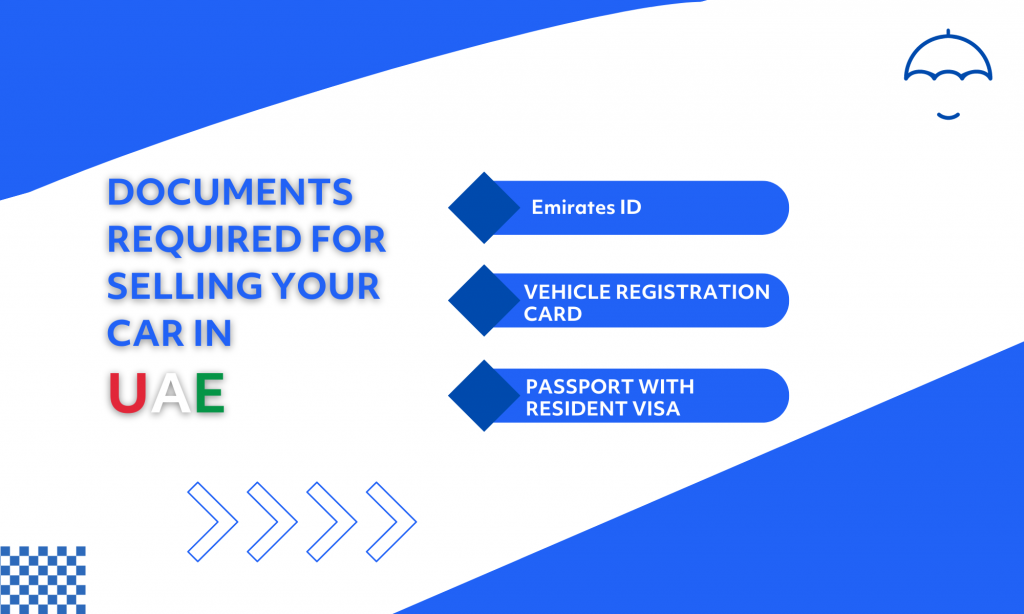 These are the documents that would be needed if you want to sell your car in the UAE –
Emirates ID
Vehicle registration card
Passport with resident visa
Things to sort before you decide to sell your car in UAE
Remove the Salik Tag
Salik Tag allows you to pass toll gates in the UAE. Make sure you remove the Salik Tag before selling your car in UAE to a new owner. If the buyer continues to use your Salik Tag then the amount will be deducted from your account.
Clear all outstanding fines and loans
Pay off all pending fines like speeding, wrong parking etc. and clear off all pending loans before you plan to sell your car in UAE. If you don't clear the fines and loans, the RTA department will not allow you to transfer the vehicle to the new owner's name.
Inspect your car
It is a good idea to run an RTA inspection of your car before selling it. The RTA will not pass the vehicle with worn out brakes, tires, or any other signs of damage. Every part of your car including minor and major checks would be done and there are chances that you might get a better value for your car.
Check the car insurance
Car insurance is mandatory in the UAE. One of the major things to keep in mind is to transfer the car insurance to the new owner before selling your car. The process is fairly simple and can easily be done online. You just need a list of documents and once they are submitted, the car insurance will be transferred.
Get your car serviced and cleaned
A clean and well-maintained car looks more appealing. Also make sure that you get your car serviced to ensure better mileage, fuel efficiency, and reduced risk of breakdown. All these factors combined will give you a better price of your car.
Selling your car in the UAE
For selling your car in the UAE for the first time, there are a few things you need to keep in mind. They are –
Vehicle owners in the UAE aren't allowed to stick any stickers and advertise for sale inside their car windows. However, if the police found any advertisement, they would impound the vehicle.
If you are planning to clean the used car, don't do it on the road. Cleaning and washing a car in the street is illegal in the UAE. If you are caught, you will be penalized with a fine of AED 100.
If you are selling your car, make sure all mortgage or other outstanding amounts will be cleared before selling it.
Three ways to sell your car in the UAE
When people ask – how to sell your car in the UAE, we give them these three easy and convenient options.
Sell your car to a car buying company
There are many car buying companies that would be willing to buy your car. Selling your car to them can be a profitable deal. All you need to do is check your car's value online on their website or app. Book an appointment for inspection and sign their RTA approved sales vehicle agreement. Once all of this is done and the deal is finalized, you can get the funds through cheque or bank transfer.
Advantages
It is authentic and saves a lot of time and hassle
You can get the money in your preferred mode of payment (as cash or NEFT) directly in your account
The company will take care of the entire paperwork
Disadvantages
The company may give you a fair price, but it may not be the best price
These companies don't buy cars that are heavily damaged or don't work
Trade your car
Another way is to trade your car at a dealership. You can hire professional dealers to help you sell your car and they can find potential buyers for you who would offer the best price. There are many dealerships across the UAE that offer this service, so you don't have to get hassled in providing ads and haggling with potential buyers. The dealership can also help you with documentation.
Advantages
The dealership can arrange for a vehicle by the time your car sells, so you don't have to be without a car
It is an easy to implement process and hassle free
Dealers will help you with paperwork
You can directly approach the dealers and crack a profitable deal
Disadvantages
Your car will be sold on consignment basis
The dealership may offer low trade-in price
You cannot trade a car purchased via bank or if there is an outstanding amount pending
Sell a car online privately
If you don't want to sell your car through a dealership, you can sell your car in UAE on our own. You don't need to involve traders or dealers, simply post an advertisement online, talk to potential buyers and sell your car where you get the best deal. There are marketplaces that connect buyers and sellers online and offer the best price for selling your car in UAE.
Advantages
You get all the money from the sales
Most likely you'll get the best value for your car
There is no involvement of third parties, so you get complete transparency
You get to choose from a wide selection of potential buyers
Disadvantages
You have to manage everything on your own
There will be no professionals to help you with documentation
You might have to be without a car for sometime
It can be challenging to coordinate with buyers in the decided timeframe
Inform the buyers about documentation
It is so important to have complete transparency in the car sale deal. In addition to the car details, you should provide all the information about vehicle's documentation –
Inform in the announcement if there are fines and taxes are due and if the inspection was carried out.
Collect all the repair and maintenance records (if any).
Always book with the interested party in a public place.
Get a copy of a bill of sale which must have a vehicle identification number, car's description, purchasing price, date of the sale along with name and signatures of both buyer and seller.
Hope this information helps you make a wise decision when it comes to selling your car in UAE.
Originally published Dec 07, 2022 09:12:19 AM, updated Dec 07, 2022