A Guide for Filing a Car Insurance Claim in the UAE
You can get a few minutes to read easy Steps to take after a car accident to submit and
File a car insurance Claim in the UAE
. Also, a minor roadway mishap may leave you with minor medical and vehicle repair service expenses.
The good news is a car insurance policy is compulsory in the UAE and usually covers all these costs. Whether you pick comprehensive insurance coverage or a third-party car insurance policy plan, it can take a lot of stress off your mind.
In case of an accident, you need to submit the insurance coverage claim and let the firm take care of the bills. This overview will certainly explain every little thing you need to understand about submitting a car insurance coverage case in the UAE.
What are the requirements for filing a car insurance claim?
You need to prepare all these documents for filing a car insurance coverage claim in the UAE:
A police report
Car Registration Certificate
Automobile modifying certificate (if there is any kind), including Driving license of both chauffeurs.
Filled up insurance policy claim forms by both parties
Keep in mind that studying your car insurance plan entirely is very important. Both car drivers can obtain an insurance claim from the insurance company.
When the driver has a clear concept of the terms, kind of coverage, advantages, and exclusions, they are qualified to work out the wanted settlement quantity with the insurance company agent ends up being simple. Not knowing what your insurance policy covers can be a significant source of tension.
What is the best time to file a car insurance claim in the UAE?
You can file a car insurance claim in the UAE under the following scenarios:
Personal Injury
If there is a physical injury you came across as a result of the crash, you should intimate your insurance policy service providers quickly. It is advised that you assess the total damage in light of your auto insurance plan when filing a car insurance claim. Please note that you only file an insurance claim if your auto insurance policy covers collisions or crashes.
Car Damage
You will be compensated if the various other celebrations damaged your car with a third-party liability cover. On the other hand, if you are at fault, you can only be made up if you use comprehensive car insurance coverage.
A Comprehensive insurance policy plans protect both the plaintiff and the driver liable, and it additionally covers damage caused to your automobile because of natural catastrophes. Here is an in-depth guide on the distinction between a third-party and a comprehensive car insurance policy.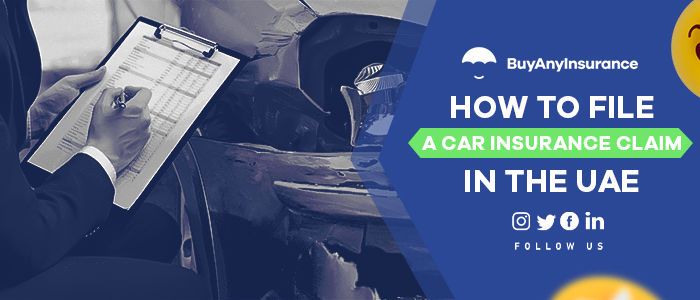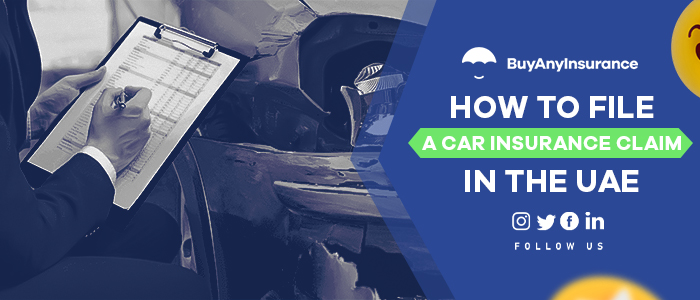 What happens when the insurer proceeds with the car insurance claim?
A tree trunk falls over a car and may harms the window, or you meet a car accident with another car. A Comprehensive car insurance covers problems triggered by all-natural disasters as well, as per written in the insurance policy document. Follow these actions to file a claim and identify precisely how the insurance claim works:
File a car insurance policy claim by sending vital files consisting of an original copy of the authorities' report and the car registration certificate.
After the insurance company offers a go-ahead for repair work, take your car to the accredited dealer/garage for an estimate.
The dealer/garage will evaluate the damages and report the repair service expense to the insurance company.
Once authorized by the insurance company, the repair begins.
Get your vehicle when the repair is completed.
Things You Should Do When Making a Car Insurance Claim
Accidents are inevitable. You can be as careful as possible, but sometimes things are no one's fault, and an accident occurs. In these circumstances, it is best to do the following to make your car insurance claim as speedy as possible.
Know What Your Policy Covers
As a policyholder, you should know what it contains front to back. Not knowing what's covered can be a source of anxiety in the event of a collision. Therefore, before buying insurance, make sure you discuss what is covered in the event of an accident, so you are aware of what to do when making a car insurance claim.
Inform Your Insurer Immediately
For the insurer to be aware that you've had an accident, they need to be informed immediately. Call your insurance company to start the claims process as soon as you're done, calling the police or an ambulance if needed. Indeed, the more you wait to file the claim, the longer and more tedious it will be to come through.
Keep Photographic Evidence
Once you've ensured that all parties involved in the collision are safe, take pictures of the scene to bolster your car insurance claims file. It helps give an accurate picture of what happened and who is to blame. Moreover, these can even be used to report a collision by posting on to the Dubai Police app. For Abu Dhabi, use the Saaed app to report traffic violations, and for Sharjah, use the Rafid app.
Get Contact Information
Information is key. Get as much information as possible. Get the contact details of the other party involved in the accident. Also, get the details of their vehicle, their license plate number, and the make and model of the car. I, if possible, try to get an eyewitness account. It will help greatly when you make a car insurance claim. Get Your Car Insurance Claim
Make and Keep Copies of Concerned Documents
Anything and everything related to the car insurance claim should be photocopied and kept with you. It includes car repair, towing fees, medical bills, accident reports, and your car insurance policy.
Things You Should Avoid Doing When Making a Car Insurance Claim
Don't Admit it Was You Fault
An accident is a traumatic experience. It leaves you dazed and even confused about what happened. Incidentally, it is human nature to think that you are at fault and that the other party might take advantage of this guilt. Therefore, it is recommended that you shouldn't admit to fault as soon as the accident happens. Wait for the report to reveal who was actually at fault.
Don't Accept Immediate Compensation
In some situations, the insurance company might try to give you a lower compensation than you're entitled to. In these cases, it is best to consult legal counsel and gather all the information you can about your insurance policy. See if you are being offered less and if they can pay more before accepting compensation.
Don't Sign Documents Without Verifying Them First
It goes for any situation in life but is especially crucial during an insurance claim – don't sign any document offered to you without reading it thoroughly and asking questions to help you understand it better. It always helps to know what compensation is owed to you, but if you're confused, always consult a lawyer before signing anything.
Don't Take Too Long to File a Claim
In many cases, claimants file claims so late after the incident that their claim is rejected outright. It is mainly because they don't read their insurance policies thoroughly and don't know that three years is the cut-off mark, after which any claims are rejected. Yes, you can be too injured after the collision to make a claim personally. In this situation, you should ask a relative or friend to file a claim for you. If you are alone in the country, you can task your lawyer with the job of filing the claim. Please don't leave it too late. You might not get any compensation at all as a result.
FAQ's
How to claim car insurance after an accident?
Please follow the steps below to claim car insurance after an accident:
Step 1: Instantly Inform the Police at the time of the accident by calling, and meanwhile, you can examine the damages to your car.
Step 2: Notify your car insurer immediately
Step 3: Capture pictures of your damaged car
Step 4: Go through your car insurance policy before making a claim.
How to claim insurance for a car accident in Dubai?
You need to prepare all these documents to claim insurance for a car accident in Dubai:
A police report.
Car registration document.
Car modifying certificate (if there is any)
Driving license of both drivers.
Filled insurance claim forms
What is the time limit for a car accident insurance claim?
Most car insurance policies in the UAE do not provide a strict deadline or window of time, say 30 days or 60 days, etc. Instead, you are usually required to make your claim "instantly" or "within a reasonable time."
Can we claim insurance for car dents?
Yes, you can claim insurance for dents, whether a fault is yours or by a third party, but it is advisable to claim your car insurance for the significant loss instead of minor dents.
How many car insurance claims per year in the UAE?
Car Insurance claims in the UAE have increased by more than 45% compared to the last year.
How to claim insurance for a car accident in Abu Dhabi?
You need to prepare all these documents to claim insurance for a car accident in Dubai:
A police report.
Car registration document.
Car modifying certificate (if there is any)
Driving license of both drivers.
Filled insurance claim forms
Wrapping Up!
It is everything about filing a car insurance claim in the UAE. In case your automobile was harmed irreparably in the accident, you can pick to get an additional one from the adhering list of affordable previously owned cars. Keep tuned to UAE's top auto blog for much more on car insurance coverage, filing car insurance coverage in the UAE, traffic policies, and traffic violation fines.
Related Articles:
Originally published Aug 08, 2022 23:42:10 PM, updated Jan 09, 2023