Buy Online Car Insurance this 2022
Buy Online Car Insurance this 2022
Online Car Insurance purchase this 2022 can be a game-changer in the insurance market. It is less time-consuming, but you get to know the ins and outs of terms and conditions associated with any auto insurance.
There are many options for insurance policies offered by many insurance companies in the market. Due to this, it often becomes difficult to choose the right policy for your car.
Since its an obligated requirement in the UAE to get car insurance as soon as possible when you own a car, you have to choose the option that will perfectly fulfil your needs. With internet service, companies have also started to offer insurance services online.
You also have the choice to choose to buy online or offline Insurance. Some people consider offline insurance purchases to be safe and reliable.
Thus, buying Insurance online is hassle-free along with many benefits.
We have provided you with a guide explaining how to buy car insurance online in 2022.
Main Aspects of Buying an Online Car Insurance
Look at the main aspects of buying Insurance and how these aspects differ for online and offline Insurance.
1. Settlement of Claims
If the policyholder dies, a broker or an agent claims for the settlement amount, in case of an offline term plan.
Online plans involve the nominee directly getting in contact with the insurance company, which is through a phone call, through the Internet, or by a meeting.
In offline plans, you may have to visit the company office with all the necessary documents to file your claim.
You may be required to make these visits more than once. At such a sensitive time of grieving this can become a disadvantage.
Thus, in an online plan, a nominee claims for the amount.
2. The Premiums Offered
In online insurance plans, the premium rates that are offered are comparatively lower than offline plans.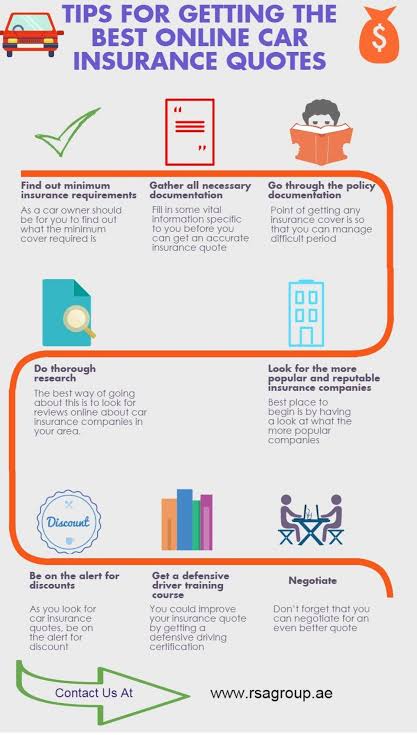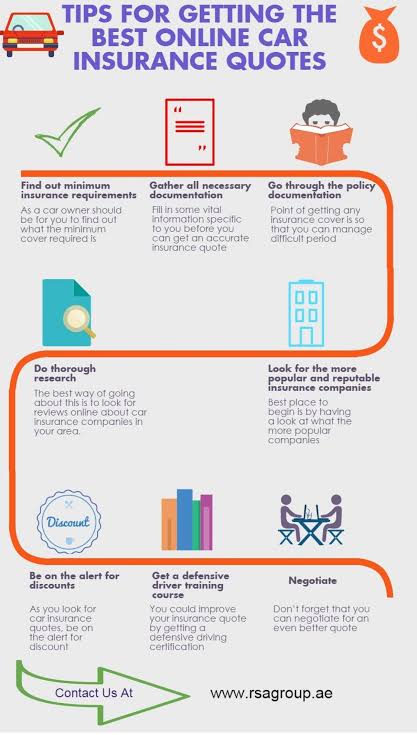 This makes it a hit with the price-sensitive UAE market.
If you consider just the premium amount then it makes total sense to opt for an online car insurance policy rather than going offline.
Also, there are many online aggregator services that allow you to view multiple providers' details on the same page.
Hence, depending on your car make, model, and year, and your location, you are presented with the best rates that are way lower than what you get when you visit their offices.
3. Purchasing Policy made possible at any time, Anywhere
With online Insurance, you can view the details of a policy or multiple policies even at 3 AM.
Now imagine if you were to do this offline. Not only will you have to travel a lot, but the agent or company office itself will be closed at that hour!
Hence insurance buying is accessible and possible 24 x 7 x 365 online.
An agent will always have his commission added to the cost of the insurance bought through him.
This will drive up the price paid by you for your car insurance. In online buying, there are no hidden charges involved to increase the price you pay for the insurance.
Hence from the costing point of view, buying online holds more advantages over buying offline.
However, make certain that you are aware of all the terms and conditions of the plan prior to saying yes to a policy.
5. Benefits of going for online car insurance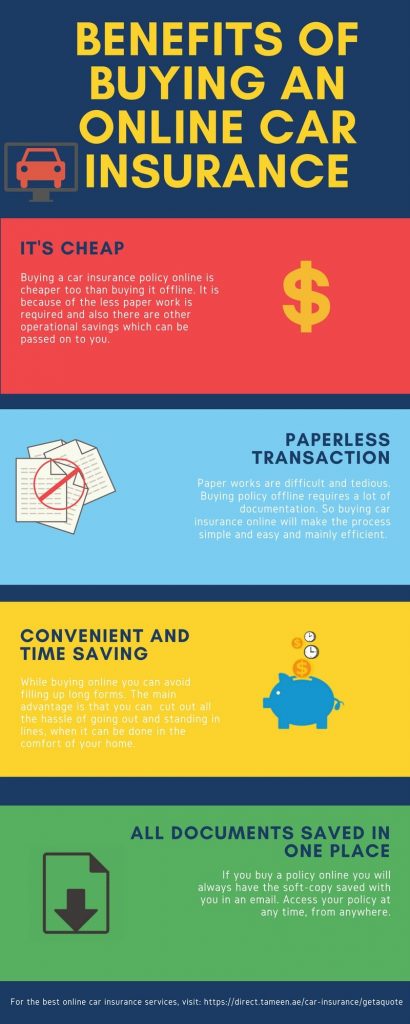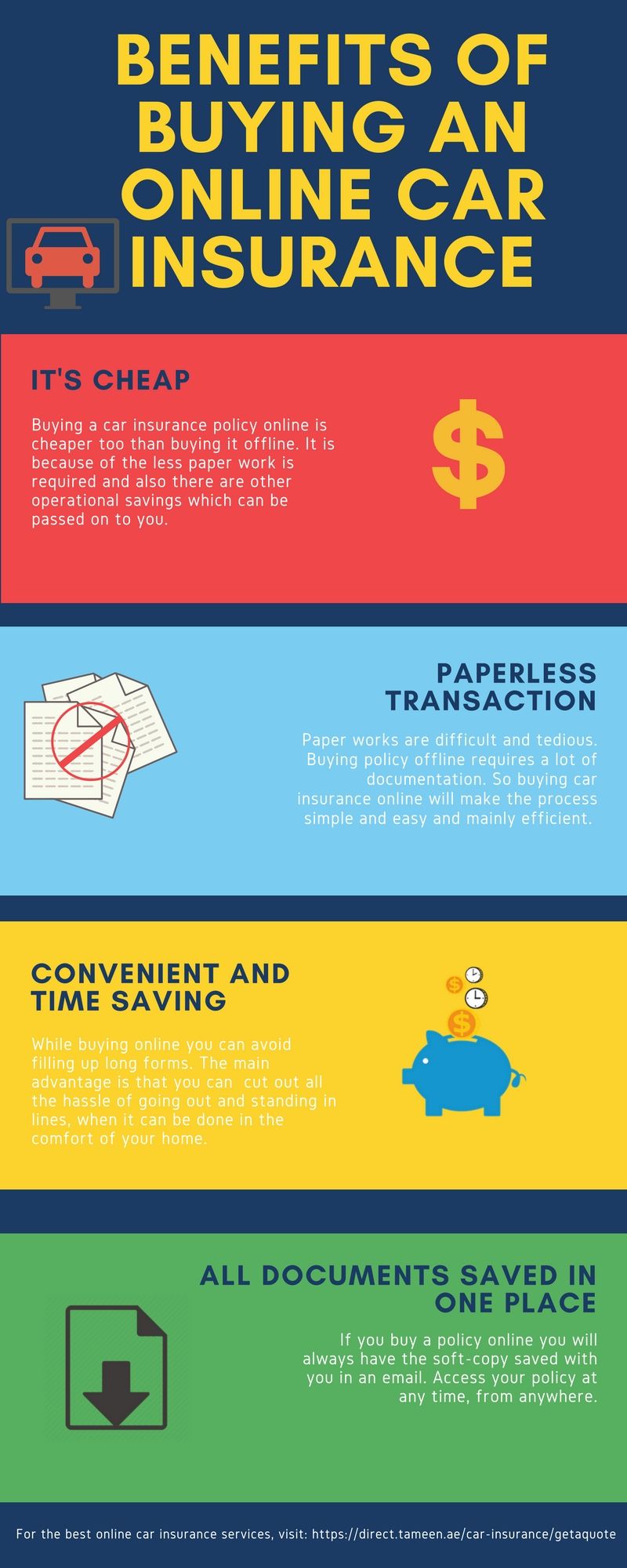 All information at one place
The great thing about online insurance is that you can easily collate all information in one place and then compare the benefits of each. Imagine how difficult it will be to achieve this in an offline scenario.
You will have to put in considerable time and effort to go out, travel to different companies' offices situated at different locations, pick up their sales brochure, study it or talk to their representative, and then make a decision.
In online policy buying, you simply have to browse online through their coverage details and carefully research their terms and conditions.
Therefore, with these steps, you will be ready to make a decision about the insurance you want to go with.
2. Save on premium
If you are well versed with insurance terms and policies and have enough time to conduct thorough research and thus, come up with the best policy, you can purchase a policy online and save on some premium.
3. Comparison between providers becomes possible
You can compare multiple providers and choose the best available policy.
When you are online you can toggle between various types of insurance policies from different insurance companies, the different add-ons, and then finalize the company that is providing the lowest premium.
These benefits clearly denote why going for online car insurance is a wise move.
Thus, log on to the internet and save substantially on your next insurance premium amount.
4. Zero Depreciation Policy
NONE! That is in terms of actual coverage. Hence, if you have a zero-depreciation insurance policy or a comprehensive vehicle insurance policy than where you bought it from does not matter.
They are all the same. There are some differences though that will make you wonder why you ever bought insurance from an agent.
Let's start with the cost. Online policies are cheaper, in fact BuyAnyInsurance offers the cheapest insurance quotes from leading companies.
How they do this is not a mystery? Online cos have lower running costs so they can pass on a zero depreciation insurance policy amount of their commission to you. Your agent can't do this as he cannot work for free.
Then there is support. If you have to make a claim then your agent is not the best person to help you out.
He has better and more important things to do like sell more vehicle insurance policies. Larger outfits have Claim Assist departments with professionals that know how things work at the insurance companies' end.
Thus, larger outfits have Claim Assist departments with professionals that know how things work at the insurance companies' end.
5. Zero Depreciation Insurance Policy
You can take advantage of this even if you have not bought your insurance from them. We have saved the best for last.
When you buy online you get your vehicle insurance policy instantly. You don't have to wait for it and you are covered at once.
In-addition you are saved the trouble of all the tedious paperwork.
Therefore, while there are no differences in coverage, the difference in service and costs are enough to make you go online and never call an agent again.
Q) Thinking of buying your car insurance online, but don't know where to start?
Let us walk you through the process of acquiring a car insurance policy online and how, keeping a few important things in mind, it can be a rewarding experience.
Therefore, navigating through the exhaustive information on car insurance products available online can be challenging.
Before you lose yourself in the facts and figures, read on to fully understand the process, features, benefits, and conditions associated with purchasing car insurance online to make an informed choice.
6. Buying online Insurance is smart
The online platform for insurance transactions has been a game-changer owing to the convenience it offers its users.
It not only saves you time and energy, but you also get a world of unbiased information at your disposal.
Moreover, you can expect complete transparency in plan features. You will find detailed policy description – What's included, what's not – Everything you need to know at the click of a button.
Browsing plans, comparing features and reading customer feedback helps you gauge the performance of different insurance companies.
Online purchase also offers a great degree of flexibility with a multitude of options to customize your policy.
A single online form to be filled and required documents to be uploaded also means reduced paperwork and zero hassle.
The biggest benefit, however, is the cost-effective nature of online policy purchase. Thus, by eliminating middlemen, infrastructure and other overheads, insurers can pass on the savings to online buyers in the form of discounts.
7. The process of online buying
Following is a step by step guide to obtaining a car insurance policy online.
1.Understand the level of coverage you need
Begin with identifying the level of coverage you require. Insurance providers in the UAE offer two types of car insurance coverage – Third-party liability coverage and comprehensive coverage.
Third-party liability coverage offers the minimum level of coverage and only pays out to the third party in case of an incident.
Comprehensive coverage, on the other hand, pays out for damage to your car as well as covers all damage to the third party.
Additionally, you can opt for numerous add-on features at an extra premium to meet your individual requirements.
Thus, this may include agency repair, personal accident cover, Oman extension, natural calamities cover and so on.
2. Start comparing
The next step is to fill out a form with complete details of your car and yourself.
The online quotes generated help you compare the benefits and prices offered by different insurance providers.
3.Assign correct value to your car
An important point to remember here is to assign the correct value to your car.
The declared value of your car is, in the simplest terms, the sum insured in the car policy.
Lowering the value of your car to keep premiums low might prove imprudent in case of a claim.
You must also take the policy excess or deductible into account when choosing a policy.
You may notice that the higher the deductible, the lower will be your premium.
Therefore, keep in mind – Higher deductibles translate into higher out-of-pocket expenses at the time of making a claim.
4. Look out for offers and discounts
Limited period offers and discounts on all or specific insurance provider's products are a major reason to shop online for your next car insurance purchase.
These discounts can shave a few hundred dirhams off your car insurance premium.
Sign up for newsletters from comparison sites to stay abreast of these offers, which are especially useful if you have a car insurance renewal coming up soon.
5. Pay and go
To complete your purchase, you can make direct payment at the comparison Website through credit card or over the phone.
For instance, on BuyAnyInsurance your policy is issued within an hour of your payment being made and documents being uploaded.
Thus, don't forget to check with the service provider about the turnaround time involved in processing the payment and issuing the policy.
6. Reach out for support if needed
If you get stuck at any stage of the online purchase process, you can get in touch with the service provider's call center representatives or online support team.
8. Companies Providing Online Car Insurance
A number of insurance companies also provide online services. Most of these companies use this platform to attract more and more customers through different deals.
Thus, the process of buying online car insurance has been made easy by these companies.
You can buy online car insurance this 2022 from any of these companies. Some of these companies are mentioned below:
Aqeed
Aqeed is one of the digital companies that has allowed the policyholder to not only buy the insurance online but also to manage it online.
The company has made the process of buying car insurance very simple and easy. The process of buying insurance online through Aqeed is:
You have to fill an introductory for that will require you to answer personal questions, questions related to vehicle insurance, and questions about your vehicle.
You will have an option to select the policy that is suitable for you from many choices.
You have an option to compare plans and select the best one for yourself. Then you will upload documents.
You will insert the payment details. These details will only be used as an authorization on your card.
Your uploaded documents and details will be reviewed and assured by the company's advisors.
Once your documents have been checked and approved, your policy will be issued and the payment will be deducted.
Thus, you can also get a discount over a claim bonus certificate. You can also cancel your insurance policy anytime.
Salama
Salama also offers online car insurance at affordable prices along with many other provisions.
It is a process that is easy and hassles free. The company provides an extensive policy that you can easily buy without visiting the broker or office every other day.
The best part about online insurance through Salama is that you get a 10% discount instantly when you buy the insurance online.
The company provides up to 20% no claim bonus. You can get the policy instantly.
There is no lengthy and extensive paperwork required that will prolong the procedure.
Therefore, Salama has a support team that will guide you and be there for you throughout the process and even after it.
AXA Insurance Company
The company provides many types of insurance that have extensive coverage.
AXA Insurance has offered a 10% discount on buying the insurance online. The process is also simple. Thus, in three steps you can choose the insurance plan for yourself.
You have to enter your vehicle details. This will include the model, type, and company of your vehicle.
You will retrieve a quotation against the details that you have entered.
You will get to select a policy that is suitable for you.
Oman Qatar Insurance Company
We appreciate that you're busy and most often don't have time to worry about your insurances, let alone taking out time of a busy schedule to buy or renew your insurances.
With OQIC, you can get quotes, buy and renew all your personal insurances online, and you can even file your claims online too.
GET 10% DISCOUNT ON COMPREHENSIVE CAR INSURANCE Manage your car online from purchase to renewal of your policy.
Thus, in three simple steps, you can get the policy, renew it or retrieve a quote.
You have to fill out a form through which you will get a quote and you can buy the policy that is suitable for you. You will be required to fill your personal information along with details of your vehicle in this form.
You can renew your policy easily through the website by providing your policy no or Civil ID.
You can also retrieve your quote through providing your Quote no. or Mail ID.
Hence, you can also contact the company to get the correct information that will help you in making the right decision.
FAQ's
Where can I do online car insurance quote comparison?
You can do the online car insurance quote comparison at BuyAnyInsurance and get the best car insurance that suits your needs.
Can you buy car insurance completely online?
You can get the car insurance quotes online but only a few companies allow their customers to sign up for the complete policy online without talking to an agent.
Is online car insurance safe?
Fortunately, yes! Although a few companies will allow you to buy car insurance online, the purchase is safe as long as you buy from an authentic source.
Is online car insurance renewal available in the UAE?
Yes! You can easily renew your car insurance online in the UAE.
Conclusion:
We hope that the guide we have provided you to buy online car insurance in 2022 will be sufficient to make you realize the importance of online Insurance.
Do your research before making such decisions and choose the suitable policy for you.
Originally published Jan 10, 2021 12:18:00 PM, updated Jun 07, 2022