Unknown facts of Auto Insurance in Dubai 2022
Unknown facts of Auto Insurance in Dubai 2022
Auto Insurance in Dubai is considered to be a serious business and the government has implemented and forgone some laws in order to promote its purchase among the young drivers or whoever possesses a car.
But how much we are aware of these laws and facts associated with these insurance policies?
Things have changed now as owning a car is no longer considered as a luxury. It is considered a necessity in cities like Dubai.
A car saves the time of transportation for people in cities and it has become important to protect your car and yourself from many situations.
Thus, it has become mandatory to have insurance for your car. There are some things that you should know that are related to cars.
It has become legally compulsory for car owners to have insurance for their cars whether they are buying a new car or they already own the car. If someone is buying a car, they must get insurance before registration.
In all the places in UAE, insurance is available through brokers, banks, and insurance companies. There are a large number of insurance providers in the UAE. This overwhelming amount of insurance providers confuse the car owners as they have so many options to choose from.
Almost all people have auto insurance in Dubai, but many people know the details about their policy. However, it is important to know all the details about the car insurance you are buying if you want that you don't get overpaid by the companies.
It is a known fact that most people pay more than is required for car insurance. It has become very easy for people to obtain car insurance as companies have started to offer insurance online. Hence, it isn't easy to know all the details about the insurance you buy or have bought.
You must have complete knowledge about different insurance policies and the details about companies that provide car insurance. This knowledge ensures that you get the best insurance policy in the budget suitable for you. This article provides you with an explanation of unknown facts about auto insurance in Dubai, 2022. Let's look at some facts that people do not widely know.
Unknown Facts of Auto Insurance
1.Your age matters
People under the age of 25 usually have to pay more to get their car insured. According to UAE law, drivers below the age of 25 also have to pay 10% of the total damage if they cause an accident. Thus, this rule even applies if the car is registered and insured by another person more than 25 years old.
2. Your car might not be covered
Many people choose third-party liability insurance because it's a more affordable option, but it only covers the other party's car. Therefore, you'll have to pay to fix the damages to your car out of your pocket if you were responsible for the accident.
3. You can save money by comparing policies
Don't mistake purchasing the first car insurance policy that comes your way or simply renewing with your current provider. Not all car insurance companies will have a policy that matches your exact needs and budget, so be sure to compare multiple quotes from insurance providers on BuyAnyInsurance before deciding.
You can save a significant amount of money on your car insurance. Insurance companies also frequently change their rates to improve profitability. Hence, Your current insurer might have offered you the lowest rate last year, but there could be better deals in the market to ensure your specific car this year.
4. Compare the type of Insurance Types
Different types of insurance are offered to you. You should know about the dynamics of each type so that you know what type of insurance you are getting.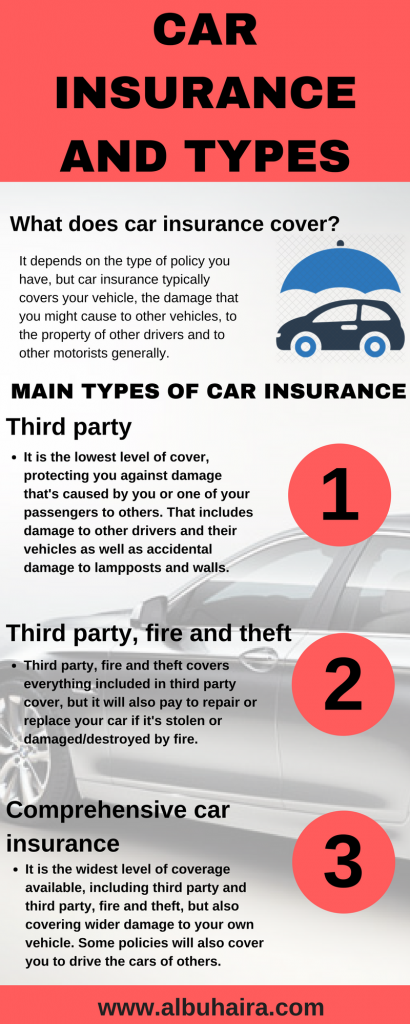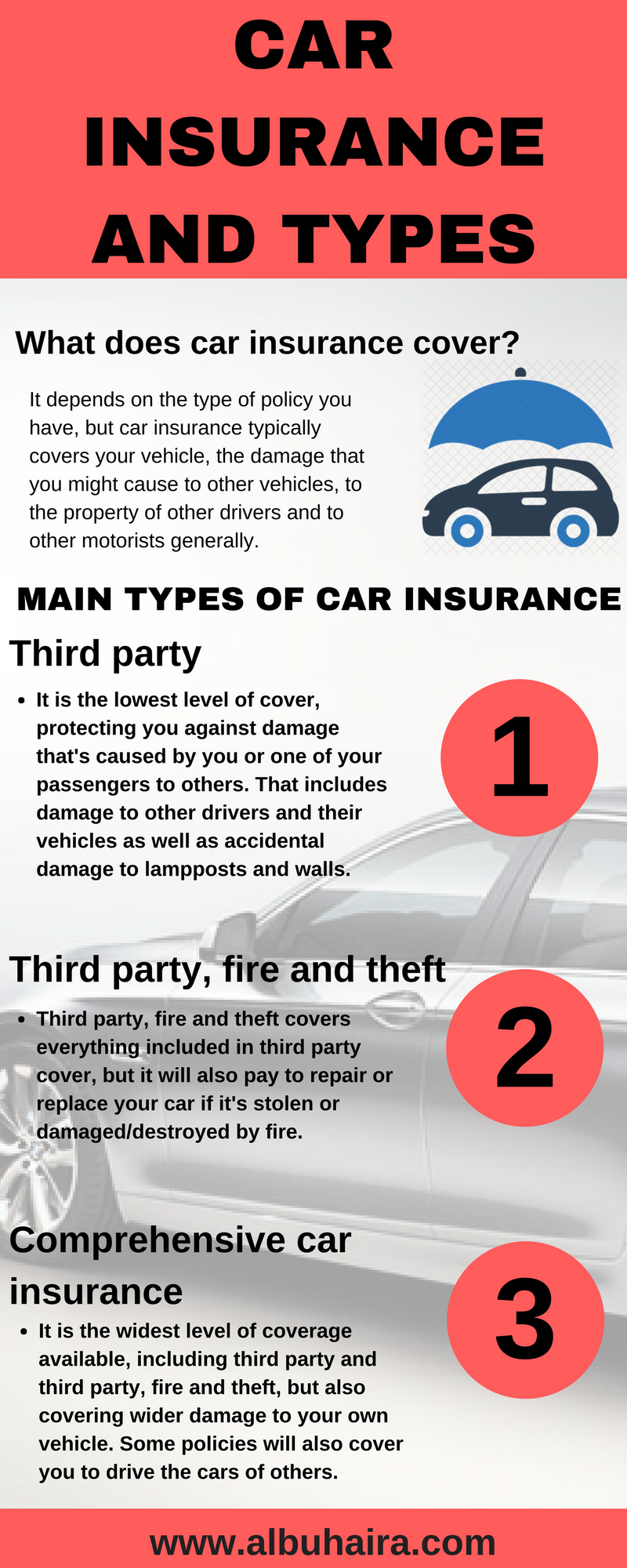 Comprehensive Insurance: This type of insurance covers you and the other car in case of an accident. Because of the wider coverage, this insurance generally tends to be costly. This auto insurance in Dubai covers not only the vehicle against accidents, theft, fire and malicious acts but also personal accidents, in the event that the driver or passengers are injured in a collision and need medical treatment.
Third-party liability insurance: This auto insurance in Dubai covers only the other car and passengers in case of an accident. Thus if you opt for third-party insurance cover, the insurance premium will cost much less but you will have to pay for the damage of your own car in case of an accident.
Thus, if a car has been purchased using a loan, most banks in the UAE will not allow you to buy third party liability insurance and will require the owner to purchase comprehensive insurance.
5. Your policy can be expanded to cover other GCC countries
This is a must-have for frequent travelers. Not all insurance policies keep you under their umbrella if you step out of your country, but you can choose a car insurance policy that provides coverage across neighboring countries or even GCC.
6. You can leverage a no claims certificate to save hundreds of dirhams or more
Few policyholders request a 'No Claims Certificate' from their insurance provider. If you haven't made any claims, you can provide this certificate when you buy a new insurance policy with a different company to get a discount. You can easily save up to 30% on your insurance!
7. Gather all your documents to get the process started
You are required to present the following documents to the insurance company as proof of identity and driving experience.
Copy of your driving license
Copy of your vehicle registration card (if it's a new vehicle, you will need to provide a copy of the Pro-forma invoice).
Copy of your passport photo page and visa page
8. ISO ratings
ISO rating program assigns values to vehicles based on the car make, model, and car safety ratings, among other things. Then it takes into account real-life loss records for the vehicle. Auto insurance companies are good at fighting risks. They pull your vehicle rating report to determine the risk of insuring your vehicle. The higher your rating, the higher the risk for the insurer to be involved with you, which results in higher premiums.
9. You can ask for roadside assistance:
You can often request your insurance provider to include roadside assistance in your policy, proving to be a lifesaver. If you worry about being stranded in the middle of nowhere, consider this add-on. Make a call if your car breaks down or runs out of fuel, and they will send someone to help you.
10. Pulling eligibility reports
Auto insurance companies go for the complete research package. They double-check your claim, driving, and credit records, but they also have access to reports about your mileage, vehicle registration, hidden drivers, property reports, and even your current carrier. Therefore, note that you must get auto insurance in Dubai to register your vehicle with your local DMV.
11. Expired driving tickets
It could be hard to remember the last time you got a traffic ticket but asking your auto insurance agent never hurts. Auto insurance companies can pull your records and look at violation dates to verify whether your ticket expired and no longer impact your premium. It's advisable to keep track of your traffic violation date(s) and reduce possible surcharges for your next renewal term.
12. Auto insurance company's surcharge schedule
Auto insurance companies are very much informed about your driving records. Depending on the nature of your ticket, they can determine whether you are getting an increase in your auto insurance rate and by how much. They use your company's surcharge schedule to gauge the value of your current driving violation(s).
This point-based system shows how much your rates will go up through adding calculations. Thus, to stay ahead of potential increases, ask for a copy of your company's surcharge schedule.
13. The impact of your claim on your auto insurance rate
It's difficult for drivers to know how accidents could impact their car insurance rates as surcharges vary by insurer. Even if you try alone, you may find it overly complicated and call your auto insurance for help. Auto insurance companies have access to that information and can determine which claim increases your rate. Know that the number of accidents and the nature of your claim impacts your rate, so try to learn more about it.
14. Non-renewal of Auto insurance
Never underestimate the impact of your previous driving violations. Your car insurance has full access to your driving records and can easily determine whether you qualify for a policy renewal or a good-bye note. It varies from one company to the next and from state to state. High-risk drivers facing renewal rejections share multiple driving tickets within a time frame, a DUI, license suspensions, exceeding the number of claims, and other traffic violations.
15. Total Loss of Vehicle Calculation
If you are involved in a car accident where your vehicle cannot be repaired, your auto insurance may determine your vehicle is a total loss. There's no general rule for that as it varies from insurer to insurer. Typically, your insurer will take the cost of your repair and compare it with the current cash value of your car. Your car will be totaled if the exact total loss exceeds the internal set threshold.
16. Auto insurance companies work on their best interest
Your car insurance policy may offer you protection, but your insurer won't be unconditionally siding with you on every claim. Insurers also act in the best interest of their house insurance because your policy is a legal contract. Auto insurance companies will take your case or claim independently, keeping an eye on their balance before making any decision.
17. Ways to reduce your auto insurance premium
Aside from generating quotes and guidance, auto insurance companies are familiar with discounts that apply to several drivers. Many of them don't appear on the company's site, but it's worth asking.
Auto insurance discounts come in different forms: having a child in college to having an occupation or affiliation. The list may belong, and knowing it all could be hard. Many drivers miss out on hidden discount opportunities by not asking questions.
18. Claim approvals and exclusions
Your auto insurance knows beforehand which claims are passed and which are rejected. Some claim rejections include intentional damage, damage you do to your property, damage from road racing, damage by depreciation, and theft of personal belongings during a car accident.
19. Hiring out your vehicle
Whether you use your vehicle to transport people and goods for payment, your insurance company can easily verify your coverage. There's no way you can skip that infringement. Therefore, if you get into a car accident while hiring your vehicle, you could be held responsible and forced to pay for the possible damages.
20. You can ask for Emergency Services
Ask about emergency services: If you have an emergency while on the road, like running out of fuel or a flat tire, you can call the emergency number provided on your brand new insurance card for prompt roadside assistance. However, some insurance companies do not provide a 24-hour roadside assistance hotline, so check that before signing up.
21. Check if you have off-road travel insurance
Generally, car insurance companies in Dubai only cover accidents on the road, but Dubai being an adventurer's paradise, off-road travel like dune bashing and wadi bashing is quite common. If you are taking part in these activities, make sure that your insurance covers off-road travel.
22. Understand how your premium of auto insurance in Dubai is calculated
Car insurance premiums are calculated after considering the year, make, and model of the car, the size of the engine, claims history, and risk profile of the driver. In the table below, you will find some other factors affecting your insurance premium. For example, a driver with less experience will have to pay a higher insurance premium than a more experienced and older driver.
There are many factors due to which the level of insurance premium is determined.
If you have a new car that has high safety features, the insurance premium will be low.
If the price of your car is high, the insurance premium will be high.
If the age of the driver is under 30, the insurance premium will be high
If you have a low driving experience, the insurance premium will be high.
If you have GCC coverage, the insurance premium will be high.
If you would require an off-road coverage, the insurance premium will be high.
If you would require a breakdown coverage, the insurance premium will be high.
FAQ's
In auto insurance, what is comprehensive?
A comprehensive auto insurance covers and pays for the vehicle when it's stolen, damage and in the incidents that do not involve collision!
Is auto insurance with no license possible?
Yes this is possible. In Fact this is compulsory when someone else is driving your car.
What auto insurance is required by law?
Liability coverage is compulsory and is required by law in all the states of UAE. But this could be waived off if you have enough resources to pay for your car damages.
Can we cover cars in Dubai?
No! This is not allowed by law to leave your cars covered with a cloth or a plastic cover.
Conclusion:
As getting auto insurance is compulsory for the residents of UAE, you have to buy a policy for your car. Many companies are providing insurance. If you want to get the best deal, you should check and know all the facts about the insurance.
There are many details that the insurance provider may not give you. It would help if you asked about different coverage and policies to know what is suitable for you. Hence, there are some points that you should consider while buying insurance. This article has included those points that people do not widely know, but they can significantly affect your buying policy.
Originally published Jan 29, 2021 14:07:00 PM, updated Jun 03, 2022