Medical Insurance Expo 2020 Dubai
Medical Insurance
Expo 2020 in Dubai is a fundamental event that addresses the challenges faced by humanity and how medical inventions offer the ride of a better future.
Theme for the Expo 2020 is 'Collaboration of minds and creation with the Future'. This is aiming to have 180 nations as participants along with multinational and medium and small-sized corporations.
Hence, it is also aimed at including millions of people from the United Arab Emirates (UAE) and the Emirate of Dubai. The Expo is aimed at celebrating the innovation in medical processes.
There are many challenges when it comes to managing the risks of large numbers of visitors regarding logistics.
We have explained in detail about the innovations and technologies being introduced in medical Insurance Expo 2020. Thus, these innovations will not only be presented on the site of Expo but these will be implemented throughout the hospitals in UAE.
Dubai Health Authority is the regulating body that is responsible to deliver the health services to the population that is nationals in the UAE along with the expatriate residents and visitors.
As every year more and more people visit Dubai, it becomes a burden for DHA to provide delivery of health services.
Then what's the solution?
DHA makes sure that the needs of visitors regarding the healthcare issues are being catered in the medical Insurance Expo 2020.
Hence, this guide is for all the citizens including the visitor who needs to grab this amazing health insurance opportunity.
New Technologies to be Proposed in Medical Insurance Expo 2020
The conferences, which will focus on technological advances in health care, will include a Virtual Reality and Robotics Expo with artificial intelligence, 3D printing, and wearable technology being the subject of several panel discussions.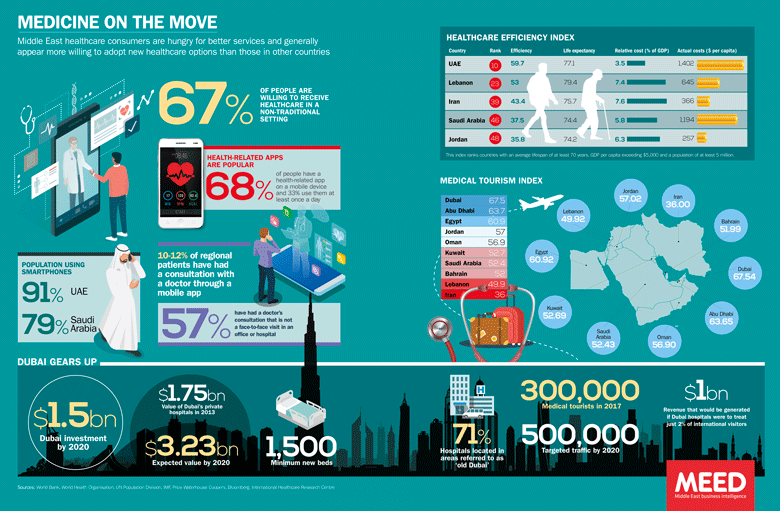 The conferences will be held at the Expo's co-located Dubai Exhibition Centre, in collaboration with Medetarian Conferences Organising, a medical conference, and consumer events specialist.
"The 10 cutting-edge medical conferences and special events that will be hosted at DEC during Expo 2020… will serve as an invaluable addition to the UAE's medical landscape," Najeeb Al Ali, executive director of Expo 2020 Dubai Bureau said.
The UAE already hosts a number of high-level healthcare and medical-related conferences.
Thus, these include the annual Arab Health conference, which has grown over the past 45 years to become, arguably, the world's flagship healthcare event.
2020 Expo Health Care Framework
As part of its advance planning, DHA has developed an Expo 2020 DHA Contribution & Support Framework ("Health Framework").


The Health Framework identifies key strategic objectives which are directly linked to the objectives of the Expo:
Position Dubai as a global medical destination by introducing a value-based, comprehensive, integrated and high-quality service delivery system;
Direct resources to ensure a healthy and safe environment for the Dubai population;
Promote public and private collaboration in Healthcare;
Foster innovation across the continuum of care;
Revamp the governance structure of DHA; and
Establish efficient decision support systems by ensuring an integrated data platform.
Hence, planning ahead in order to be suitably prepared and resourced to provide the best health and organizational services.
Unified process for managing the Medical Insurance Expo For the visitors
DHA has developed a service charter for the Emirate of Dubai especially for Expo 2020 which caters to the needs of customers, visitors, and investors.
Prior to the commencement of Expo 2020, DHA will create and use multiple communications channels to raise awareness of its commitment to providing information regarding the availability of health insurance, healthcare services, medical tourism and highlighting Dubai as a leading healthcare hub.
For participants and visitors requiring a visa (which in-turn requires having a medical fitness examination), DHA will provide medical fitness services in an innovative way to ensure that the experience upon arrival is fast and efficient.
This is expected to include processing visitors through an airport clinic upon arrival into the emirate, and a process to link all medical reports with the unified electronic file and the public health control system.
While staying in Dubai, DHA will provide primary healthcare services, emergency services, and specialized medical services through its integrated hospital network of facilities and clinics.
It is also expected to have a clinic on-site at Expo 2020, which again will link all medical reports with the unified electronic file system and the public health control system.
Therefore, when the visitor leaves the country, DHA will provide all health reports to the visitor through a secure electronic portal called "my chart".
Priority projects and initiatives of DHA that are related to Medical Insurance Expo 2020
In line with the key strategic objectives, DHA is in the process of rolling-out identified priority projects and initiatives related to Expo 2020.
Hasana– The Public Health Surveillance Network that aims to monitor and reduce the spread of infectious diseases, follow up basic vaccinations and manage vaccination campaigns in Dubai.
Sheryan -A network of healthcare specialists among the UAE's health authorities as the only source of approved data for the issuance of temporary medical licenses to some professionals, hence enabling them to take care of the needs of exhibitors and visitors at Expo 2020.
Dubai Heart Safe City Initiative – Developing an effective response system to make Dubai the "Heart Safe City" in the world by adopting healthy innovations to combat heart attacks.
Salama – The unified electronic medical file The unified electronic medical file that aims to create a unified electronic record for each patient, available in all the centers of DHA. Thus, it also provides doctors with accurate data on patients to help them in decision making, to achieve the best medical outcomes. Strategy for Investment in the Health Care Sector Strategy for investment in the health care sector and partnership with the private sector, including investment in the Emirate and the service of Expo 2020
Salem– An integrated intelligent system designed to improve the customer's journey, reduce waiting time, and provide all services in one place, with the best methods, electronic systems, and smart technologies.
Dubai Medical Experience – A web site that will include a variety of travel information including how to obtain a UAE visa (if required), in addition to the option of booking the hotel and the round-trip tickets on Emirates Airlines. The site includes more than 17 hospitals, 45 health facilities, and more than 600 health packages.
Medical Facilities Performance Assessment System -A smart system measuring the performance of all health facilities in Dubai including an integrated star rating system that will be available for the public in the emirate.
DHA Central Call Center– A central Call Center as DHA's first line of customer service, responding to customer's inquiries, booking medical appointments and ease the communication of customers with DHA through telephone, website and social media channels. Hence, the DHA active call center is trained enough to cater to your needs in one phone call.
Medical tourism and Innovation
Dubai seeks to establish itself as a global hub for health tourism and innovation. Keeping the spirit alive in 2020 Medical Insurance Expo following agendas were enlightened;
In order to realize these objectives, it is critical that the government of Dubai and DHA have a clear vision and strategy which will utilize Expo 2020 as a showcase for its services.
Recent legislative changes should improve the attractiveness of the emirate as a destination for medical tourism and innovation.
Developments include new telehealth regulations, and initiatives based around the concept of 'wellness', that in turn are aligned with the 'Emirates Vision 2021.
Therefore, the preventive medicine to combat an increase in the prevalence of lifestyle-related diseases, and to identify and treat cancer, which is the third-leading cause of death in the country, after heart disease and accidents, have been given importance in all regards.
Public-Private Partnerships
The DHA Investment Strategy 2017- 2020 has created an investment strategy that "Promoting Dubai as a feasible and ambitious hub for Investment In healthcentre that approaches the needs of the Emirate and the future opportunities, and invest sustainable public-private mediums in Dubai."
Initiatives range from creating incentives to promote public-private partnership ("PPP") investment to reviewing and implementing regulatory changes that might encourage investment.
A new piece of legislation is expected to be published later this year regarding PPPs in healthcare projects.
Thus, these new and rapid changes are creating an attractive opportunity for foreign investment.
DRG System
Both private and public hospitals across Dubai will be covered by the system, which streamlines payment protocols, and both insurance and health sectors have welcomed the move towards greater transparency and accountability in medical procedure rates and billings.
Eventually, it is expected to bring down insurance premiums for UAE residents.
Thus the entire billing system will move towards a more egalitarian method of payment.
The Introduction of DRG
Diagnosis-Related Group (DRG) is a type of insurance system that was created by the professors of Yale University in 1970.
It uses algorithms to fix base fees for treatment procedures for a wide range of health conditions.
There will be greater accountability and transparency in this system. This will help the hospitals to be accountable for their rates and billing. It means the duration of stay and the cost of treatment will be fixed.
UAE residents will benefit from this system as based upon performance hospitals will get points. These points will help the hospitals to negotiate better premium rates with the insurance company.
This will ultimately help the residents to get insurance at a decreased premium.
Thus, this system is expected to be implemented in the public and private hospitals in Dubai starting from next year.
Define its Working?
How it really works? Let's dive in to see the major elements;
When a patient reports to a hospital or clinic, the nature of their illness along with other variables such as his age, complication levels, and comorbidities (the presence of one or more conditions existing at once), will be taken into account to determine which algorithm the case falls under.
The insurance then pays a bundled payment and under this, the cost of treatment for medication, and duration of stay is all fixed.
A private hospital spokesperson said: "Hospitals will be graded according to the case, experience, and their performance, earning points for their better performance. So we will have three aspects on which we can get a slightly better price – the relative rate, the grading by DHA and then we will have the privilege to negotiate with the insurance company on a case-by-case basis to get us a better price within that band of illnesses."
Saleh Al Hashimi, CEO of DIHC at DHA, said: "The accuracy of medical coding plays an important role in DRG payments. The accuracy of medical coding plays an important role in DRG payments. DHIC will be introducing measures to standardize medical coding and adjudication rules to streamline practices in claims processing across all insurers and hospitals"
Therefore, the streamlining plan and the approval process for insured members by providing a calculated fixed price per inpatient service, in turn, this will streamline payments to providers as any disputes between insurers and hospitals around the necessity of conducted procedures will be drastically reduced.
2. How will it help you?
Once prices of treatments are standardized, services will be streamlined too.
Al Hashimi said: "The implementation of DRGs focuses on benefitting the patient by encouraging hospitals to improve efficiency and quality of patient care. In the DRG payment model, bundled payments encourage hospitals to be more cost-effective in their care delivery. As a result, the cost of healthcare and premiums would reduce overtime.'
No patient will get over-prescription or overtreatment and the duration and length of stay would also be considered in the fixed payment to the hospital.
Under the new system, for example, if a certain illness requires a patient a four-day stay, the hospital will have to follow it.
Also, following a surgery or any hospital stay, if the patient has a relapse of any kind and requires a repeat admission, the hospital will get negative points.
Also, it will have to treat the patient without the ability to file for a claim from the insurance company, an official of a private hospital explained.
Once insurance companies are able to save amounts and are not overcharged in the long run, the benefits of this are expected to eventually filter down to the patients and there is a likelihood of premiums coming down.
Thus, hospitals need to have efficient treatment, that brings more positive outcomes along with enhancement in patient satisfaction while reducing waiting time for approvals.
Conclusion
Dubai Health Authority has introduced a number of initiatives that has the aim to create a network that will ensure the delivery of healthcare services for the event of Expo 2020.
Medical insurance Expo, aimed at creating opportunities that will encourage investment in medical innovation and tourism strategy. In this way, the legacy of the event will be ensured.
Originally published Jan 13, 2020 15:35:27 PM, updated May 31, 2021