Why Buy Travel Insurance in the UAE
The one insurance most people overlook is travel insurance. We get it – the prospect of travel is thrilling; you're so focused on the destination and all the exciting things you'll get to do and see there; who has time for boring travel insurance? But insurance is essential in a number of ways, especially with Covid-19 travel restrictions. Five ways, in fact. Here's a list of why you definitely, absolutely, positively, can't travel without insurance.
1 Protect Your Travel Investment
Travel is expensive. Airline tickets, visas, hotel bookings, food, transport, and miscellaneous expenditures – it all adds up to a sizable amount. Travel insurance protects your investment. Any financial loss, be it from a missed flight, lost bookings, or a cancelled trip, can be recovered through travel insurance.
2 Medical Emergencies Abroad
Getting sick on holiday is a nightmare for two reasons. One – instead of falling sick on company time, you're wasting precious vacation time stuck in your hotel room; and two – hotels and medical insurance abroad can be confusing and expensive. It's not the ideal way to spend your holidays but sometimes it can't be avoided. Especially now, during the pandemic that still has the globe in its grip, and many nations have levied Covid-19 travel restrictions, precaution for medical expenses should be taken into account no matter when or where you decide to travel.
Travel insurance steps in to help pay for medical expenses and helping you find network hospitals. It will make your predicament less difficult and your recovery quicker. In case you need to leave earlier due to your medical emergency, insurance can also look after any cancellation costs.
3 Avoid Minor Problems
The aim of travel is to have a good time. Minor inconveniences such as cancelled flights missed connections, or lost baggage can put a damper on that feeling. Travel insurance helps you avoid falling into a dark mood by taking care of it all. You can move on with plan B and not worry about the small changes in your plans.
4 It's Affordable
Travel insurance isn't as expensive as you think. Most people have an estimate in their mind that travel insurance will cost just as much as the entire trip. This is a gross exaggeration. Most travel insurance policies can be tailormade to your needs. Travel insurance policies also vary from country to country. If you're travelling to a country that poses less risk, has more up-to-date medical facilities, then travel insurance costs would be lower. Even travel insurance to the UAE is reasonable if you discuss the requirements and add-ons with your insurance provider.
5 Peace of Mind
Many have tried, but you can't put a price on peace of mind. Imagine going to a tropical paradise on your honeymoon but unable to enjoy any of it because you're constantly worried about catching an infection, or getting in an accident. Travel insurance affords you peace of mind on your travels.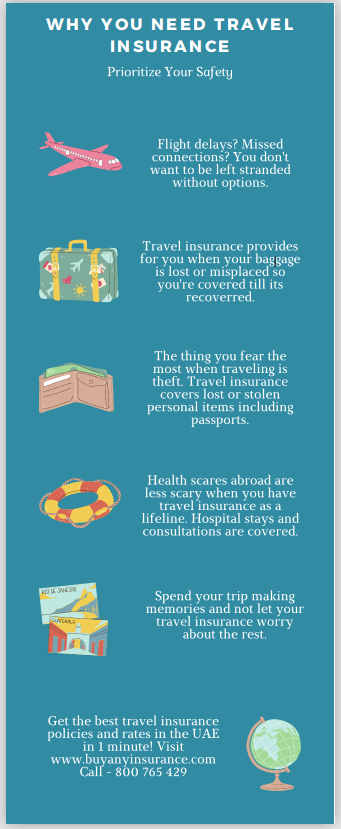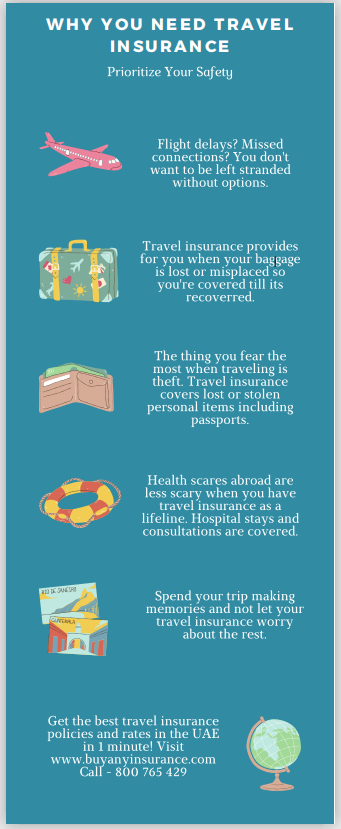 How to Buy Travel Insurance in the UAE?
Now that we've convinced you to buy insurance for your next holiday let's discuss how you can buy a policy that is best for your needs.
1 Compare
Insurance comparison sites are a great source. They help you compare policies, decide on add-ons, and tweak your search results, so you have a better idea of what you want to buy and how much it will cost.
2 Consult
Consult an insurance specialist. BuyAnyInsurance has a team of insurance experts who are more than happy to help you decide which insurance policy will be best for your trip to a particular destination.
3 Buy Online
Instead of wasting time on paperwork, buy the travel insurance policy online. It's quick! So quick you can start the process on your way to the airport and be insured by the time you board the plane.
COVID Restrictions
Be sure to read up on Covid-19 travel restrictions placed in the country you're going to visit. The Covid-19 travel restrictions in the UAE are listed below:
All passengers travelling to the UAE will be required to present a negative PCR test for Covid-19.
Children under the age of 12, people with disabilities, and UAE nationals are exempt from this test.
Passengers from certain nations might be asked to take another Covid-19 PCR test once they reach Dubai International airport.
The test should be taken at least 72 hours before the flight.
Originally published May 02, 2021 14:15:23 PM, updated May 02, 2021