Lower Car Insurance Premiums: Show Your Car Love
Your car is an asset – if you take care of it, you will save on car insurance premiums, and sell it easily when you decide to upgrade. However, you need to show it all the care you can. We love our customers and their cars, so here are a few tips that will help your car feel refreshed and appreciated.
Get a car wash and shield it from the weather
Stop your car from getting deeply dirty. Regular and thorough washes can keep rust at bay because there's less damp or acidic muck eating away at the undercarriage and wheel arches of your car. Not only that, but a professional wash will clear out junk from the exteriors and interiors, and return the seats and carpets to mint new condition. Compliment the deep clean with an air freshener, and protect your car from blistering weather by investing in a car cover or applying polish to protect the paint.
Perform proper maintenance for lower car insurance premiums
Regular service appointments are necessary and help lower car insurance costs. The mechanic will check to ensure that your car is running properly or in need of any replacements, such as spark plugs, rotors, or filters. Regular maintenance generally includes changing the oil and topping off the car's fluids. A reliable mechanic will also check for any alignment issues, which can lead to uneven tire wear.
FAQ about car maintenance
What is preventive maintenance?
It is regular maintenance of your vehicle that helps keep the engine running efficiently. A properly maintained car is dependable, safer, and lasts longer. Preventative maintenance helps lower car insurance premium and includes:
Servicing Windshield Wipers
Servicing Sparkplugs
Replacing Air Filters
Oil Change
Routine Hose Inspection
Battery Service
Battery Replacement
What maintenance should I be doing and when?
A vehicle's requirements may differ depending on driving habits:
WHOLE CAR DIAGNOSIS: Yearly and before purchase or sale
OIL – LUBE – FILTER: 3,000 miles to 5,000 miles
TIRE ROTATION: 3,000 to 5,000 Miles depending on tire style
FUEL FILTER – BATTERY SERVICE: Yearly or as needed
AIR CONDITIONING: Check every spring or as needed
RADIATOR CAP & COOLANT: Every two years
BRAKE & CLUTCH SYSTEM FLUSH: Every year
ENGINE OIL & AUTOMATIC TRANS FLUSH: 2 Years or 30,000 Miles
CARBON CLEANING: 2 Years or 30,000 miles or as needed
RADIATOR & HEATER HOSES: 4 Years or 60,000 miles
DRIVE & TIMING BELTS: 4 Years or 60,000 miles
DIFFERENTIAL FLUID: 15,000 to 50,000 miles
Replace the windshield wipers to see clearer
Over time, the wipers wear down due to use and weather conditions. This can cause cracks, which impair the wiper's ability to perform properly. Trade old wipers for a new pair that will provide for a clearer view.
Check and restore the car lights to drive safely
If you aim to impress with your shiny ride, it can be hard to do so with hazy headlights. Restore them to their former glory using a restoration kit. You will be surprised how much of a difference it makes. Also, make sure all your car lights are functioning. Check the headlights, taillights, reverse lights, turn signals, and brake lights.
Check the tires because their health affects the vehicle insurance
Always check to ensure that your tires are filled to the amount specified in the car's owner's manual. Furthermore, rotate them every 5000 miles. Some people rotate their tires after each oil change, which is a handy way to remember. This is the best way to maximize their life and ensure they wear evenly.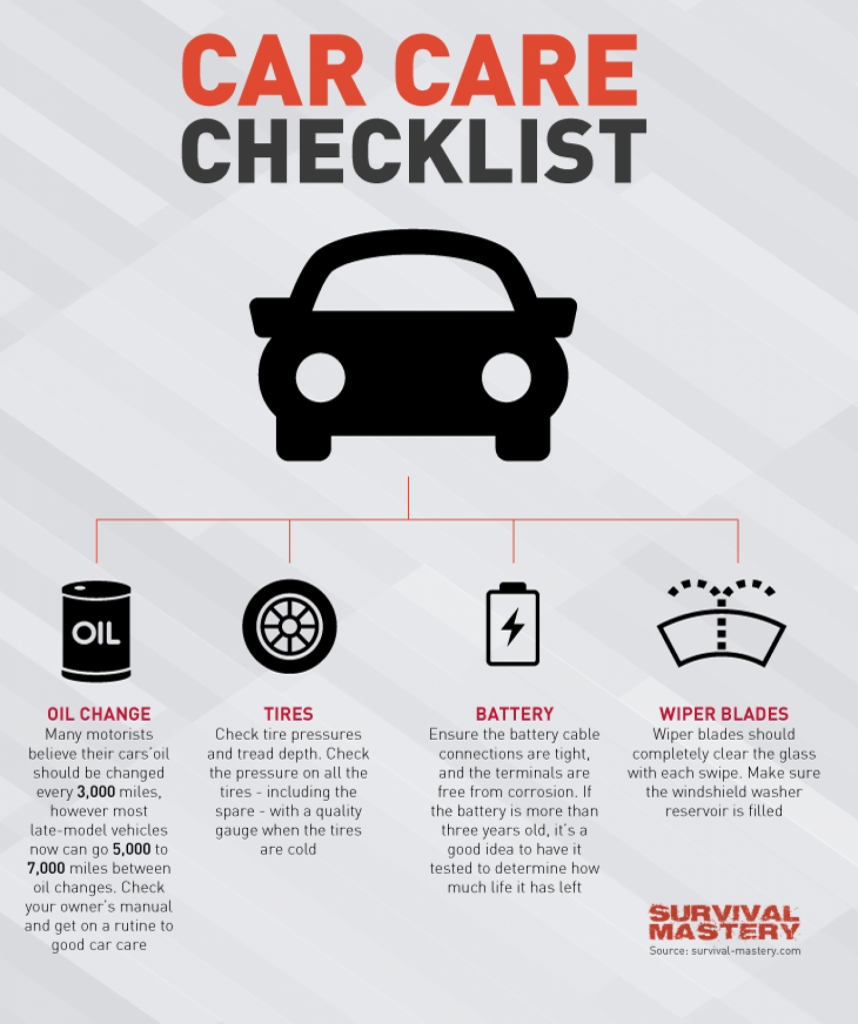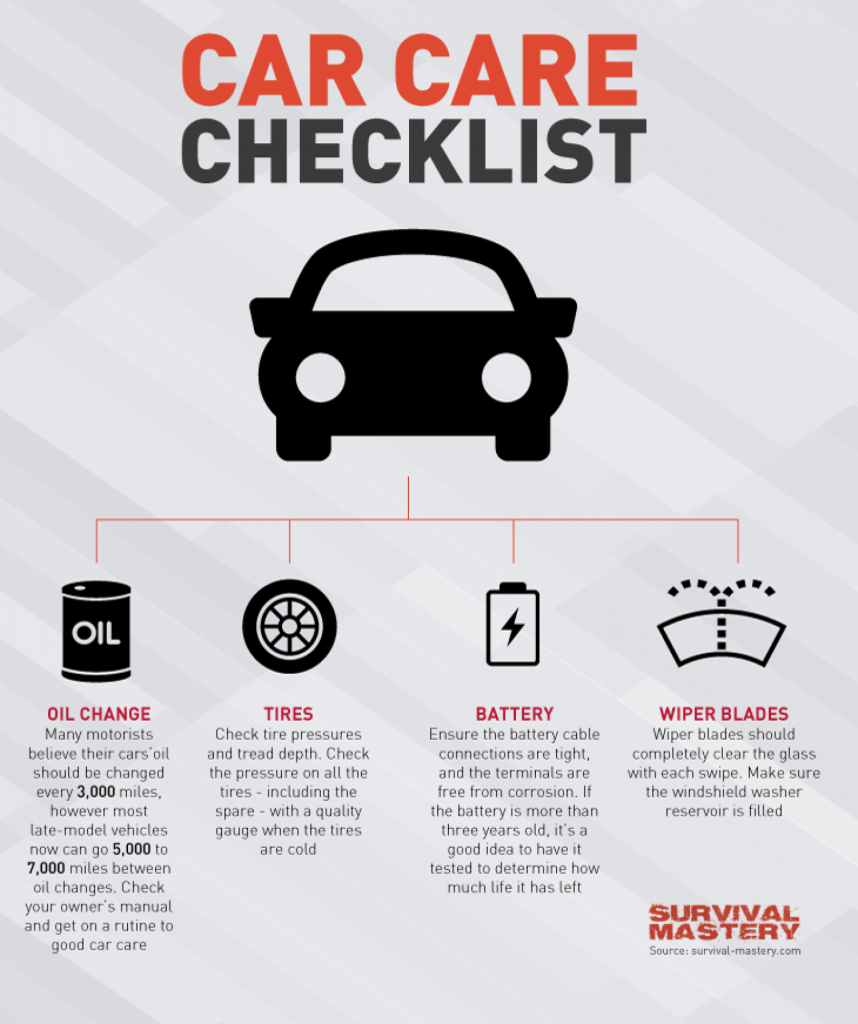 Equip your car with an emergency kit
An emergency car kit is crucial for breakdowns and unusual weather conditions. A good emergency kit should include first aid, flashlight, road flares, jumper cables, reflective triangle, fire extinguisher, spare tire, and requisite tools. While this is not exactly a part of the emergency kit, but it bears mentioning that car insurance papers should always be on hand.
Drive safe & save money on auto insurance
Driving habits have an impact on how long the vehicle will last. Therefore, you should follow traffic laws and avoid offensive driving behaviors. Safe driving is, of course, very important. But it can also help you save money on car insurance premiums.
How-To for driving safe
How to drive safe
Hold the steering wheel correctly

It is recommended to keep your hands at 9 and 3 o'clock.

Be careful of your blind spots

Perform a proper mirror and shoulder check before switching lanes.

Lighten your touch

Go easy on the brakes, lighten your foot on the gas pedal.
Final resolutions
Fill up before the engine starts running on gross fuel at the bottom of the tank.
Take speed bumps slower to avoid grinding your exhaust on the road.
Brake early and gently to keep your tires and brakes nice.
Get car insurance – the best protection there is
We know that you love your car – she's shiny, she purrs, and she gets you from A to B safely. Show the love and attention it deserves by the ultimate gesture. Take out reliable car insurance with us. Count on a company that understands what your car means to you. We make the safety of your vehicle our top priority. Call now at 800 POLICY for free expert advice or get a direct quote:
Read more
Originally published Feb 14, 2021 17:25:00 PM, updated May 31, 2021