Car Insurance Cover in UAE: The Complete Guide for Smart Buyers
Are you a car owner looking for car insurance in the UAE? Are you looking for answers to the following questions?:
What does car insurance cover?
Is car insurance in the UAE mandatory?
How can I get the best car insurance in the UAE?
Look no further! This comprehensive guide has been written to help you navigate the world of car insurance in the UAE.
Car insurance is not just a legal requirement; it is a safeguard for your precious vehicle and a major driver of peace of mind for you.
Whether you are a seasoned driver or a new car owner, understanding the ins and outs of car insurance can be overwhelming. This guide will help you demystify the process and empower you with the knowledge to make informed decisions.
Get ready for a journey in car insurance enlightenment and by the end of it you will be able to make informed decisions when it comes to car insurance in the UAE.
Key takeaways
The best car insurance for you is dependent on your needs, your car's value, and you as the driver.
When purchasing car insurance online in the UAE, don't be in a rush. Do due diligence and extensive research before making a decision.
In case of an accident, collect all details that might be needed later. But call the police first.
The risks of driving an uninsured car outweigh the cost of purchasing a car insurance policy in UAE. Don't risk it, Buy a car insurance policy.
What is a complete car insurance cover in UAE?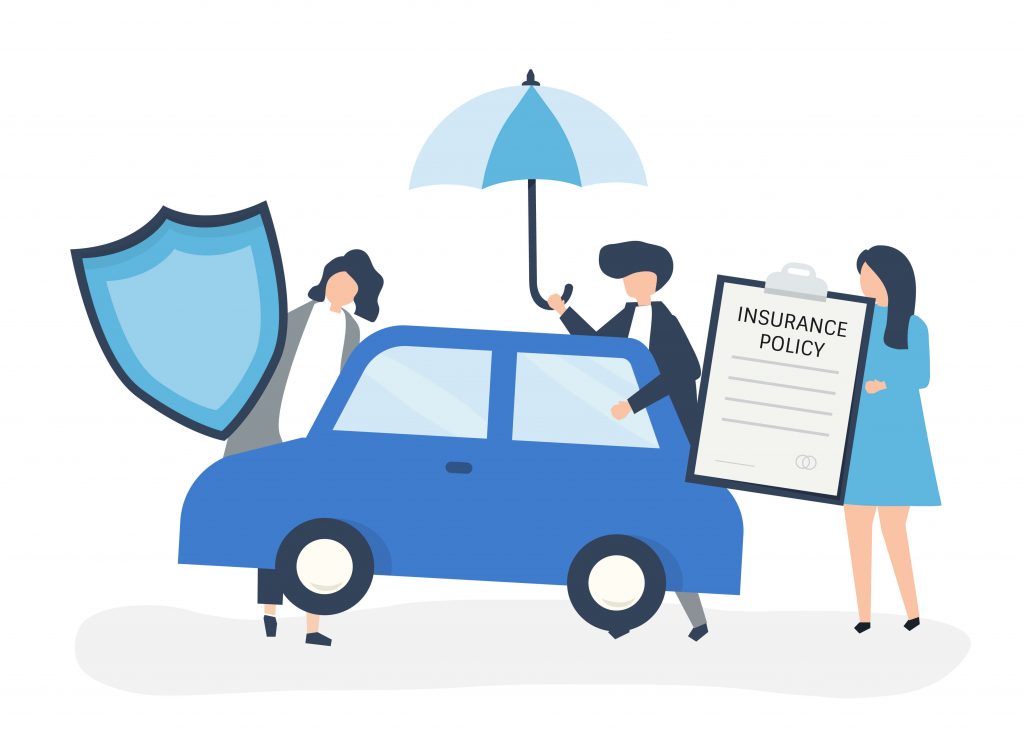 Car Insurance cover is coverage of financial liability from insurance providers to reimburse the damages which may occur to your car in case of an accident, theft, fire, or vandalism.
Car insurance covers the risk of a sudden financial liability in your pocket. It will ease your financial burden, which may occur due to some unfortunate incident to your car.
The insurance companies provide this service in exchange for a certain premium amount paid monthly or annually.
BuyAnyInsurance will assist you in getting the car insurance cover that best suits your situation and is economical for your pocket.
Usually, car insurance cover in the UAE is of two types: Comprehensive insurance and Third-party liability. RTA made it compulsory for every car to get at least Third-party insurance to come on the roads of the UAE.
Otherwise, you will get heavy fines and black points, or your car may get impounded if you drive in the UAE without car insurance.
What kind of car insurance coverage do you need?
As the UAE government determines, third-party car insurance is compulsory for you if you possess a car. However, your situation can differ from buying just third-party car insurance in Dubai. There are several car insurance coverage types offered by various car insurance companies as follows:
Additional car insurance cover:
Breakdown
Courtesy Car
Legal Expenses
Misfuelling cover
Lost or Stolen keys
No claim discount Protection
Windscreen cover
Personal Injury cover
What is the difference between Comprehensive and Third-party car insurance?
Third-party Car Insurance Cover
Third-party liability insurance means that if a car accident occurs, you will have to pay for the other party's damages or medical bills. And if you have third-party insurance, then car insurance pays the costs on your behalf.
Third-party insurance cover is compulsory in the UAE. You can not bring your Car on the road without third-party car insurance. It is the minimum requirement set by the UAE government to get car insurance to drive in the streets of the UAE.
Comprehensive Car Insurance Cover
Comprehensive car insurance cover is the complete set of financial liability coverage due to an unfortunate incident to your Car. It covers the medical bill or damages of the other party and protects your car damages and medical expenses. It is slightly different from third-party insurance. Because third-party insurance is a mandatory requirement. However, comprehensive insurance is optional in the UAE.
Car insurance Cover Guide
Buying car insurance online for your Car can be challenging if you're not aware of the various aspects of the car insurance industry. Hence, it would be best if you had an awareness guide on car insurance where you get the answers majority of questions related to car insurance. It includes an understanding of the car insurance premium calculation, deductibles, various types of car insurance, tips to get the car insurance at the lowest premium, and information to claim the car insurance effectively in case of a mishap to your Car, etc. Following are the certain aspects which you can consider while looking for car insurance online for your Car as mentioned below:
Tips to get the cheapest car insurance
Get awareness of the car insurance companies currently offering car insurance in the UAE market.
Get an understanding of the types of car insurance, including comprehensive car insurance cover and third-party car insurance.
Make a good comparison of car insurance by using an online car insurance calculator.
Consult with the car insurance experts available in the market like BuyAnyInsurance before making any purchase decision.
Get awareness of how insurance premium is calculated and which factors help you reduce the car insurance premium cost.
Claim no claim benefit discount to the insurance company and install an anti-theft device in your Car. Moreover, insurance companies also offer bonuses to their clients.
Car Driving Tips
You have to be aware of the RTA traffic rules, black points, and penalties.
Be confident, fasten your seat belt, and avoid useless changing of lanes while driving.
Don't drive the Car when you're tired and not mentally fresh.
Take short breaks when driving on a long route in the UAE.
Avoid night driving on a long route if you can manage to go in the daylight.
Tips to get a driving license
Read and remember all the traffic rules as determined by the RTA.
Practice driving the Car well before going for a driving license test.
Listen to the instructions of the examiner very carefully.
Once you're in the Car for a driving test, make some initial adjustments, including fastening your seat belt first, setting all the mirrors, put down the handbrake while putting your feet on the brake pad.
Keep yourself calm and be confident while giving the test.
Never apply sudden brakes during your driving test.
Don't press the accelerator when you have neutralized the vehicle gear system.
Be patient and show your driving skills to the examiner as per the instructions.
Electric car insurance
Electric car insurance is also similar to a fuel-consuming car. Electric car insurance is a bit more expensive than ordinary automobile cars because it possesses large batteries that are expensive to replace if the Car is damaged.
Driving convictions and car insurance
Driving convictions occur when you violate the traffic rules set by RTA, like breaching the maximum speed limit on the road, reckless driving, and driving on the road under the influence of drugs or alcohol, which may lead to vehicle impoundment, penalties, and the award of black points to your driving license.
These events affect the insurance premium cost and result in a higher car insurance premium. And if you have made any driving convictions, go for an insurance claim. The insurance company would deny your claim because of the driving conviction.
Medical problems and driving a car
If you have any medical problem, like your eyesight is not good or you can not see far away from the car windscreen, you must inform the insurance company.
Although it would increase the insurance cost, if you hide the information from the insurance company and they catch you for hiding the data from the company, they will deny the car insurance claim.
Child on Board during driving
In the UAE, you can not drive with a child less than 12 years of age alone. Otherwise, they will impose heavy penalties on you for boarding the child in your Car who needs extra care because it can also cause accidents. So, it is prohibited.
To get the best car insurance cover, you need to know the car insurance industry. Furthermore, you also need to know various aspects of car insurance, including how a car insurance premium is calculated, the deductibles, how you can reduce the premium cost.
BuyAnyInsurance lets you get car insurance premium quotes online free of cost. It gives you the service of a free car insurance quotes comparison portal, where you can observe the insurance quotes from different car insurance companies.
BuyAnyInsurance will provide you with the no claim benefit discount if applicable. Furthermore, we will suggest the car insurance policy that best suits your car needs and your situation to protect you from financial liability arising from the car accident, theft, or fire, as mentioned in the car insurance policy terms and conditions.
Car insurance Companies
Please find the list of car insurance companies in alphabetical order as mentioned below:
Abu Dhabi National Insurance Company
Abu Dhabi National Takaful Co. PSC
Adamjee Insurance Company Ltd.
AIG Insurance Company
Al Buhaira National Insurance Company
Al Fujairah National Insurance Company
Al Hilal Takaful
Al Sagr National Insurance Company
Al Wathba National Insurance Company
Alliance Insurance
AMAN Insurance
Arabia Insurance
AXA Insurance
Clements Worldwide
Dar Al Takaful
Dubai Insurance
Dubai National Insurance & Reinsurance PSC
Emirates Insurance Company
i-Insured
Insurance House
Methaq Takaful Insurance Company
National General Insurance Company
National Takaful Company (Watania) PJSC
Noor Takaful
Oman Insurance Company Orient Insurance PJSC
Qatar Insurance Company
RSA Insurance Group
Salama Islamic Arab Insurance Company
The New India Assurance Co. Ltd.
The Oriental Insurance Co. Ltd.
Tokio Marine Insurance
Union Insurance Company PSC
Car Breakdown, totaled, fire, and theft – Car insurance
Car insurance companies will provide coverage if your Car is totaled or catches fire, or someone steals it. However, if you have a fire hydrant in your Car or have installed an anti-theft device, it will reduce your car insurance premium cost. So, you have to keep in mind some protective measures that help you reduce your car insurance cost.
Car insurance for new drivers
Car insurance for new drivers is a bit high compared to the experienced ones. Because they are in the learning phase and the probability of getting an accident is higher. So, insurance companies usually charge higher premiums to such clients. So, it is recommended for new drivers to get a driving license and then go for car insurance for their Car. This way will cost them less than applying for car insurance as a new driver.
Car Insurance Tools
Car Insurance tools include deductibles like an anti-theft installation which reduces your car insurance premium cost, no claim benefit discounts, bonuses from the insurance company, roadside assistance, and discounts due to a specific event like the national day of the UAE or new year's eve, etc.
Right car insurance for your Car
Right car insurance coverage is the one that best suits your needs and situation, and it's budget-friendly as well. You can find the right car insurance for yourself through good research and consultation with the experts like BuyAnyInsurance.
FAQ
Following are the frequently asked question which we have received from you are mentioned below:
Is car insurance mandatory in Dubai?
Yes! It is compulsory for all the car owners to have car insurance in Dubai.
What type of car insurance is there in the UAE?
There are two main types of car insurance in the UAE! Comprehensive and third-party insurance.
Does car insurance for military have a military discount?
It depends upon the company providing the car insurance. Geico, Liberty Mutual, and Farmers are some of the companies offering a military discount on car insurance.
Can I buy Car insurance for 3 days?
Although there are companies offering car insurance for a short duration of time, the minimum duration should be at least 28 days.
Does Dubai offer car insurance for Uber drivers?
Yes! All you need to get car insurance as an Uber driver in Dubai is Driver license, private vehicle registration, valid vehicle insurance and other important documents.
What insurance do you need for Uber Driving?
You will need commercial hire private vehicle insurance for Uber driving.
Which car insurance cover is best in the UAE?
The car insurance coverage that best suits your need is suitable for your car. According to your budget, it is the best insurance in the UAE. However, it would be best to remember that third-party insurance is compulsory in the UAE, and comprehensive insurance is optional.
How to get the best car insurance quotes in the UAE?
To get the best car insurance quotes in the UAE, the best way is to make an online assessment first to get the basic idea from various car insurance calculation portals and then consult with the insurance expert and decide that best suits your situation.
How to get the cheapest car insurance in UAE?
To get the cheapest car insurance, know the insurance premium calculation, deductibles, discount offers, and bonuses offered by the insurance company. Get quotes from various insurance providers and select the one that is economical in price but best suits your Car.
Does car insurance cover breakdowns?
Yes, if you have bought a comprehensive car insurance. It will cover the car breakdown as well and sometimes it offers roadside assistance as well if mentioned in the insurance policy.
Does car insurance cover scratches and dents?
Yes, a comprehensive policy covers the financial liability of scratches and dents which may occur due to a car accident and covered as per the car insurance policy.
Will car insurance cover engine damage?
Usually a comprehensive policy covers the engine damage. However, if it causes due to driving under the influence of alcohol or drug. Then, it will not be covered by the insurance company.
Does car insurance cover riots?
Yes, any damage occur to your car due to riots shall be covered by a standard car insurance policy.
Wrapping Up!
Car insurance coverage is compulsory in the UAE. However, it's up to you which plan you opt for your Car, which varies from Car to Car. We recommend you to have a good knowledge of the insurance aspects like insurance premium calculation, deductibles, bonuses, discounts, roadside assistance, no claim benefit, and additional coverage.
Since a third-party insurance is a must-buy thing for every car owner, your insurance requirement varies depending on your driving profile, car model, and other variable factors. So, we recommend you to have a good consultation with BuyAnyInsurance to get expert advice for car insurance and opt for a good car insurance plan for your Car.
Related Articles
Originally published Mar 25, 2022 10:46:44 AM, updated Aug 10, 2023